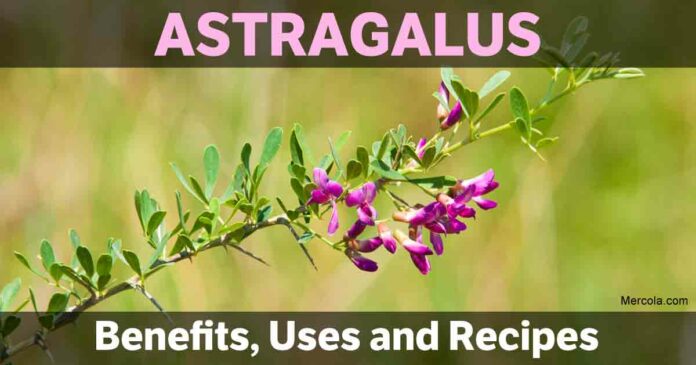 Astragalus: Boosting Your Immune System the Natural Way
Story at-a-glance
–
The astragalus herb is well-utilized in Chinese medicine because of its anti-inflammatory and antibacterial properties

With all the benefits and uses astragalus can provide, it's not really surprising as to why it's called a "leader" in traditional medicine
Astragalus, or Astragalus membranaceus, is an herb that has been utilized in Traditional Chinese medicine (TCM) for centuries prior to its introduction to the Western world. The astragalus plant originated in China and is native to the northern provinces of Yunnan and Sichuan.1
In China, the herb is called different names, including Huang Qi and Hwanqqi, depending on the region where it is normally harvested. It's also called the "yellow leader," a direct translation of its Chinese names.2 The herb earned this title because of the distinct yellow color of its root, the most important part of the plant.
With all of the benefits and uses astragalus can provide, it's not really surprising as to why this herb is treasured in traditional medicine.
Discover Astragalus Root's Many Health Benefits
According to the Milton S. Hershey Medical Center at Penn State, astragalus is an adaptogen that has the ability to help the body deal with physical, emotional or mental stress.3 It is also famous for aiding the body in lowering the risk for infections and other diseases.4,5
Various studies have shown that the astragalus plant contains anti-inflammatory,6,7 antibacterial,8 antimicrobial9 and antiviral properties.10 Here are other astragalus root benefits you should know about:
• Helps in dealing with anemia — Astragalus helps strengthen the blood vessels and improve blood circulation.11
• Prevents colds and flu — Taking astragalus before you get sick may help boost your immune system function. It helps stimulate the immune system and also provides antioxidants that can help the body fight free radical damage.12
• Helps promote cardiovascular health — Studies suggest that astragalus helps in improving the symptoms of ischemic heart disease.13 It was also observed to help relieve chest pain, increase sodium pump activity14 and help curb coronary artery clogging.15
• May help manage diabetes — Astragalus has the ability to help lower blood sugar levels and improve your insulin sensitivity. This is good news for people who are struggling with insulin resistance.
Polysaccharide extracts from astragalus also have the ability to decrease glucose toxicity by activating AMP-activated protein kinase, which influences fat breakdown and the production of insulin.16
• Improves skin health — According to a 2007 study published in the Biological and Pharmaceutical Bulletin, oral administration of astragalus helped suppress the development of atopic dermatitis in mice subjects.17
• Alleviates the side effects of chemotherapy — Studies show that this herb has the ability to relieve the side effects of chemotherapy, such as nausea, vomiting and fatigue.18,19
The demand for this herb also skyrocketed because of the immune support it gives to people who are undergoing chemotherapy, as astragalus can counter the immune-debilitating effects on the body caused by chemotherapy.20
Studies also suggest that the astragalus root may have antitumor properties, helping induce apoptosis (cell death) in leukemia cells.21
What Is Astragalus Used For?
Astragalus comes in different forms, most of which are extracted from the root. These forms include astragalus powder, herbal decoctions, tablets and capsules.22
As an ointment, astragalus extract can be used on wounds to promote healing and to avoid infections. The ointment should only be composed of 10 percent astragalus and should be applied on the skin's surface.23 However, do not apply it to open wounds without consulting a health practitioner first.
Astragalus Recipes You Can Make at Home
If you're curious as to how you can incorporate astragalus into your diet, here are some recipes you can try:
Astragalus Root Tea
When you feel a cold or the flu coming in, this astragalus root tea recipe from LeafTV may help your immune system counter the viruses that are currently at work.24
Ingredients
• 3 to 5 tablespoons dried astragalus root slices or 4 ounces fresh astragalus root
• 1 quart water
Procedure
In a medium-sized cooking pot, bring approximately 1 quart of water to a boil.
Add 3 to 5 tablespoons of dried astragalus root or 4 ounces of fresh astragalus root.
Let boil for about three or four minutes.
Pour the tea through a cheesecloth or a coffee filter to remove any dried root or debris from the whole root. Drink the tea immediately.
You can store this tea in an airtight jar in the refrigerator and drink later. Drink two to four cups a day to help boost your immune system.
Astragalus Chicken Soup
Chicken soup has always been attributed to helping restore the body's healthy state whenever you're sick. By incorporating astragalus into this Herbal Chicken Soup recipe,25 you're providing your body with the means to beat down the cause of your symptoms.
Ingredients
1 small or medium-sized chicken
2 to 3 teaspoons dried astragalus
1 bay leaf
1/2-inch ginger, chopped
5 to 7 garlic cloves, chopped
3 small chili peppers, chopped
1 green onion, sliced thinly
2 teaspoons sea salt
Procedure
Thoroughly rinse the chicken and take off all excess fat and skin. Place in a covered pot and fill with water, until there's 2 inches of water above the chicken.
Add sea salt and bay leaf and allow the water to boil.
Reduce to a gentle boil and add the astragalus, garlic and ginger.
Let cook for two hours or until the chicken is cooked completely.
Serve with green onions, chili peppers and add more salt, if needed.
Astragalus Herbal Oil Also Gives Immense Benefits
The astragalus root is also where astragalus oil is extracted from. Some of the notable components of the astragalus plant, which may be found in the oil as well, include polysaccharides, saponins, isoflavones and other flavonoids, amino acids, astragalosides and other microelements.26 These components contribute to the overall function of this essential oil.
Contraindications for the Use of Astragalus
While the astragalus plant offers a wide variety of health benefits, there are certain contraindications for certain people. Astragalus is famous for its ability to boost your immune system.
While this may be beneficial for people with weak immune systems, those who are taking corticosteroid medications should refrain from ingesting astragalus, as it interferes with the way those medications work.
For this reason, unless approved by a physician, people with multiple sclerosis, lupus and rheumatoid arthritis should steer clear from this herb.27,28
People who have undergone organ transplants should also avoid the intake of this herb because it counteracts with the drug (cyclophosphamide), which is responsible for minimizing the risk of organ rejection.29 It should also be taken in moderation if you are pregnant or breastfeeding, as no studies have done to determine whether it may have adverse effects on either you or your child.
While this herb may not be an entirely popular choice in modern medicine, the mere fact that it can provide you with a wide array of health benefits is enough reason for you not to ignore it. Astragalus has been used for numerous years in traditional medicine — it may be worth considering incorporating it into your diet to help maintain or improve your overall health.

Sources and References