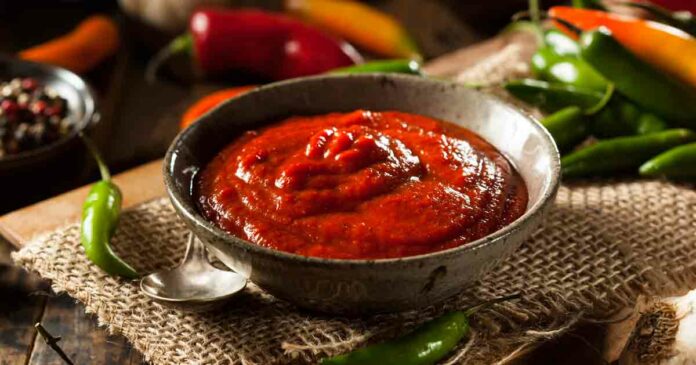 Sriracha: Here's Why This Spice Can Be Good for Your Body
Story at-a-glance
–
Sriracha sauce (pronounced sir-rotch-ah) is named after the seaside city of Si Racha in eastern Thailand, where it was created by a villager, Thanom Chakkapak, over 80 years ago

Vitamins A and C are found in chili peppers, both of which have antioxidant effects to help combat pathogens
Although sriracha's rise to popularity occurred in the last 30 or 40 years, its origins are humble. Sriracha sauce (pronounced sir-rotch-ah1) is named after the seaside city of Si Racha in eastern Thailand,2 where it was created by a villager, Thanom Chakkapak, over 80 years ago.
Chakkapak first shared the sauce with her family and friends, but its rising popularity prompted her to begin manufacturing it commercially under the name Sriraja Panich. Sriracha's popularity quickly spread, and it was eventually hailed the best-selling chile-based sauce in Thailand.3
In the U.S., production of this sauce began in 1980, when Vietnamese immigrant David Tran founded Huy Fong Foods in Los Angeles, and marketed his own version of sriracha, along with other types of hot sauces.4
Tran's sriracha packaging is actually the design most of us are familiar with — a clear, green-capped, squirt bottle with a rooster in the middle. It became the most popular version of sriracha not just in the U.S., but across the globe.5
Since then, other brands have taken their own spin to this spicy sauce. Organic sriracha brands are even available today.
Unfortunately, while sriracha is made of simple ingredients like red chilies, garlic, vinegar and salt, most brands contain high amounts of sugar, which can upset your metabolism and add to your daily carb and sodium intake in a way you may not realize. According to Refinery29:6
"A one-teaspoon serving size contains 80 milligrams of sodium, and 1 gram of sugar. 'To put that into perspective, ketchup contains about the same amount of sugar and a little more than half the sodium of sriracha,' says Tracy Lockwood, MS, RD, CDN, a registered dietitian in New York City."
As such, making homemade sriracha sauce is better, so you can control what goes into your blend. Read on to see how you can use hot sriracha sauce for many of your recipes, and how to make it at home using healthy ingredients — a great alternative to processed, sugar-loaded commercial varieties.
Is Sriracha a Healthy Sauce?
Most of sriracha's benefits come from the red chili peppers that form the base of the sauce. Spicy foods like peppers contain a compound called capsaicin, which can assist in boosting metabolism and weight loss7 by increasing satiety8 and helping limit fat accumulation in your tissues.9
Capsaicin also has antioxidant and anti-inflammatory properties.10 One study notes that its anti-inflammatory effect may even be comparable to the drug diclofenac.11 Capsaicin may also help lower the risk for cancer and tumors. According to a 2016 study in the Anticancer Research journal, it targets "multiple signaling pathways and cancer-associated genes in different tumor stages including initiation, promotion, progression and metastasis."12
This compound may also reduce platelet aggregation,13 provide pain relief (particularly when applied topically)14 and address nasal congestion by helping clear mucus from the nose.15 Capsaicin's antibacterial properties may help thwart chronic sinus infections, as well.16
Vitamins A and C are found in chili peppers,17 both of which have antioxidant effects to help combat pathogens.18,19 Chili peppers can also assist in managing your blood sugar levels and even lower your risk of hyperinsulinemia (high insulin levels in your blood).20
Common Uses of Sriracha Sauce
Sriracha is a multipurpose sauce, and can be incorporated in various recipes. Here are ideas from The Spruce Eats on how to use sriracha sauce for your meals:21
Use sriracha as a dipping sauce by itself or combine it with cream, sour cream or mayonnaise.
Add sriracha to soups or stews. While it's often used to flavor pho, a Vietnamese soup dish, you can also mix sriracha into ramen, tomato soup or gazpacho.
Flavor your meats (chicken wings, meatballs or meat loaf) or take your marinades (teriyaki sauce or barbecue sauce) up a notch with some sriracha.
Incorporate sriracha into your tomato or vegetable juice for a spicy kick.
How to Make Your Own Sriracha at Home
If you want that sriracha kick in your meals, I recommend making your own homemade version instead of relying on processed sauces sold in supermarkets. Here's a simple recipe adapted from Nourishing Meals:22
Homemade Sriracha Sauce
Ingredients
• 1 pound fresh hot red chili peppers (padron, cayenne, serrano, jalapeno, cherry bomb or Thai)
• 1 pound sweet red peppers, seeded
• 4 to 6 garlic cloves
• 1 1/2 cups raw apple cider vinegar or coconut vinegar
• 1/2 cup water
• 2 to 3 teaspoons of sea salt
Procedure
Cut the stem off each of the hot peppers and place into a high-powered blender. (There is no need to wear gloves because you are not opening the pepper to remove the seeds.)
Add the remaining ingredients to the blender and blend on high until very smooth.
Pour the sauce into a 3- to 6-quart saucepan and bring to a simmer. Reduce heat to low and simmer for about 30 minutes until thickened. Add more water for a thinner sauce and simmer for a few more minutes.
Pour into clean glass jars and store in your refrigerator for up to six months. You can also preserve it by canning it: Pour the sauce into small sterilized canning jars (4- or 8-ounce) and boil a batch for 10 minutes. Then store jars in your pantry for up to a year.
This recipe makes about 4 cups of sauce.
Healthy and Tasty Sriracha Sauce Recipes
Greatist has compiled 50 recipes that use sriracha seasoning, either for breakfast, lunch, dinner or snacks.23 Here are some examples of the healthy recipes that use this spicy sauce:
Breakfast — Bake Your Day's sriracha and veggie frittata

24

Lunch — Leaf + Grain's sriracha quinoa bites

25

Dinner — Alysa Bajenaru's chicken coconut curry soup

26

Snack — Authentic Suburban Gourmet's roasted Brussels sprouts with Sriracha Aioli

27
The HuffPost also suggests trying these sriracha substitutes, which are just as spicy and flavorful:28
Sambal oelek — An Indonesian sauce created using freshly ground chili peppers

29

Gochujang — A traditional Korean spicy paste made from fermented soybeans
Piri piri sauce — A Portuguese hot sauce made using bird's eye chilies
Harissa — A chili paste that traces its origins to North Africa

Sources and References