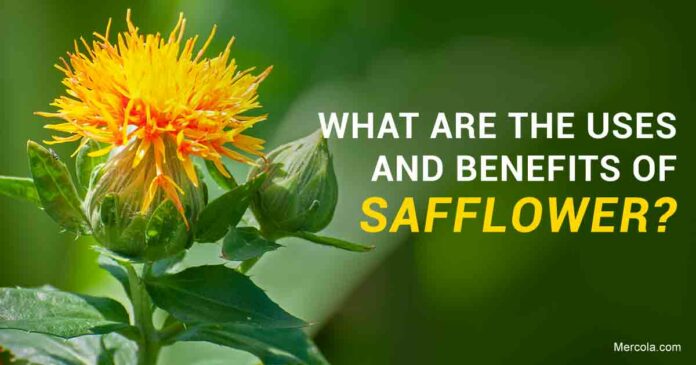 Safflower: An Economically Important Herb That Can Benefit Both Humans and Animals Alike
Story at-a-glance
–
Safflower is a widely grown crop around the world and is economically important to many countries, including the United States

Safflower can be enjoyed in different ways, but the most convenient method is to drink it as tea

Research shows that safflower may help with various aspects of human health such as diabetes management, bone health and hair growth

Men and women who are trying to conceive or starting a family should avoid safflower; mice studies show that the plant can hamper reproductive health
Safflower (Carthamus tinctorius) is an annual broadleaf crop primarily grown in the Great Plains of the United States.1 The name is believed to be derived from the medieval French word "saffleur," or from the Old Italian word "saffiore."2 It is identified by its strong central stems that can grow from 12 to 36 inches tall, and branches that produce one to five yellow or orange flower heads that bloom in late July.3
The history of safflower is largely unknown, but it is believed to have originated from Asia. Remnants of it have been found in ancient Egyptian tombs dating all the way back to 3,500 B.C.4 In India, it has been mentioned in early scriptures as "kusumba" and in China, it is known as "hong hua."5 It reached America in the 1950s, mainly in California, Nebraska and Arizona.6
Today, safflower is a widely grown crop around the world and is economically important to many countries, including the United States. Major global producers include Mexico, Ethiopia, Kazakhstan, Australia, China, India and Argentina.7
Health Benefits of Using Safflower
Safflower is known to provide a positive effect on the following:
Heart health and diabetes — Consuming safflower regularly may benefit diabetics with heart conditions. In a study involving 55 post-menopausal obese women with Type 2 diabetes, researchers tested the effects of safflower on the participants for 16 weeks. At the end of the study, the authors noted that 8 grams of safflower oil every day helped improve glycemia, inflammation and blood lipids among the subjects.

8

Cardiovascular health — In addition to benefiting your heart, safflower may promote healthy blood flow, inhibit platelet aggregation and produce beating of myocardial cell sheets.

9

Obesity — A study published in Acta Biochimica et Biophysica Sinica suggests that safflower oil may have a positive effect against obesity. In the study, mice fed a diet high in safflower oil exhibited a noted reduction in weight, as well as lower levels of orexin and ghrelin gene suppression.

10

Bone health — Consumption of safflower seed extract has been shown to help lower the risk of bone loss.

11

Hair growth — A 2014 mice study suggests that safflower may help promote hair growth by suppressing genes related to hair loss.

12
The Different Applications of Safflower
Safflower has proven to be quite versatile throughout history. If you're an animal lover, you can give safflower seeds to birds that land in your backyard via a small feeder. They are enjoyed by many species of birds, such as nuthatch, titmice and rose-breasted grosbeaks.13
If you're a rancher, you can grow safflower to serve as food for sheep and cattle. If there are leftovers after a frost, you can turn them into hay for horses.14 In addition, farmers can use safflower as a trap crop,15 which is a border plant that protects main cash crops from pests or disease.16
Safflower is also economically important in places such as Eastern Europe, the Middle East and the Indian subcontinent because it is used as dye for their carpet-weaving industries.17 Two colors can be extracted from safflower: yellow and red.
To create the yellow dye, safflowers are soaked in mild vinegar anywhere from a few hours to overnight. To produce the red dye, the flowers used to create the yellow dye are rinsed and soaked again, this time in an alkaline solution made of ammonia or washing soda. Then, vinegar is added again to bring out the red color.18
Growing Safflower in Your Garden
Growing safflower in your own home is a great way of avoiding dangerous toxins that typically come with commercially grown herbs. But before you start cultivating it, you need to survey your environment.
Safflower grows best in areas with a long, hot summer and rainfall that measures less than 15 inches throughout the year.19 The soil should be well-draining and deep because safflower taproots can reach deep into the ground. If you don't have high-quality soil, don't worry because safflower can grow in various soil types as well, even with inadequate irrigation or rain.20
Start planting seeds in late April or early May at a depth of 1 to 1 1/2 inches below the soil, spaced 6 to 7 inches apart. This is the optimal space because a wider gap can promote weed growth and delay maturity. Seedlings will emerge in eight to 15 days.21
Monitor the garden for weeds, as they can compete with the safflower for water and nutrients. Keep an eye on your plants during the rainy season as well, due to the increased risk of fungal diseases.22
Safflower Recipe: Try Making Safflower Tea
Safflower can be enjoyed in different ways, but the most convenient method is to drink it as tea. Follow the instructions below to make your own tea that you can enjoy alongside a healthy snack.23
How to Make Safflower Tea
Ingredients
1 teaspoon dried safflower petals
1 cup filtered water
Procedure
Bring the water to a boil.
Pour the water in a teacup along with the dried petals.
Let the tea simmer for 5 minutes.
Serve and enjoy.
Safflower May Benefit Your Health, but Be Aware of Some Caveats
There are some things you should know before incorporating safflower into your diet. A 2013 mice study showed that continuous consumption of safflower extracts for 49 days had negative effects on the ovarian histomorphology and female reproductive hormones of the test animals.24 Month-long safflower consumption has been shown to be detrimental to male fertility in rats as well.25
Based on these findings, it's wise to avoid safflower if you're planning to conceive or start a family. Consulting with a doctor may also help rule out possible food allergies and other health potential complications.

Sources and References