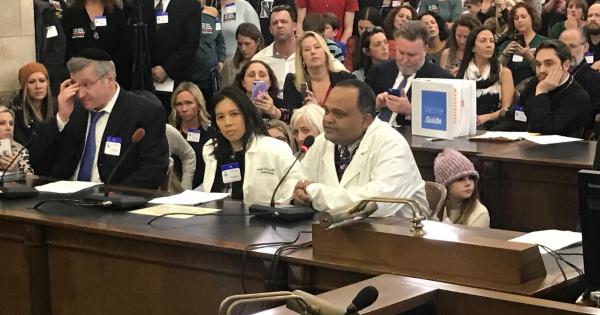 Originally published on: December 13th 2019

Originally published on www.childrenshealthdefense.org
By Mary Holland, CHD Legal Counsel
On Thursday, December 12, the New Jersey Senate Health Committee held a hearing on bill S2173 that will repeal the religious exemption to vaccination. The bill passed out of the 10-member committee with a vote of 6 to 4 in favor of sending the repeal of the religious exemptions to the floor. It will be voted on in the Senate on Monday, December 16th and is expected to pass.
If S2173 passes on Monday, it will effectively marginalize those with religious convictions against vaccinations. It will take effect in six months and eliminate all non-medical exemptions. Guidelines for medical exemptions will be provided to state health authorities. Thus, the state will review the validity of medical exemptions. There will be no religious exemption for future mandates. Judging by California, New York and Maine, such medical exemptions would be exceedingly narrow.
S2173 contains no carve-outs for special needs students entitled to a free and appropriate public education under federal law. There are no carve-outs for private, religious schools. It will apply to daycare, primary school and higher education. There is no upper-age limit for the repeal. Unlike New York or California laws, the New Jersey law would apply to higher education. Thus, under the terms of the law, a 60-year old taking a cooking class at a community college could be required to prove vaccination status before enrollment. This could include even online courses at any institution of higher education in New Jersey.
In my brief testimony, I called out the fact that three Senators who had promised to maintain the religious exemption were absent and had been replaced by the Chair with three legislators who voted in favor of the repeal of the religious exemption.
There were hundreds of people at the hearing, outside, in overflow rooms and in the hearing room.
There was impassioned testimony from a diverse group of individuals including a rabbi, a priest, the mom of a child who died from vaccine injury, Del Bigtree, myself, and many others.
Those concerned for health freedom and vaccine safety should be gravely concerned about the breadth and potential impact of New Jersey's S2173.
CHD will be providing updates on the situation in New Jersey. Other sources include the New Jersey Coalition for Vaccine Choice and Stand for Health Freedom.
Take action now via the Stand for Health Freedom advocacy portal: 
Senate Health Committee Members and Contact Information:
Loretta Weinberg (D-37) [Bill Sponsor – not on committee] (201) 928-0100 / [email protected]
545 Cedar Lane Teaneck, NJ 07666
Joe Vitale (D-19) [Bill Sponsor] 732-855-7441 / [email protected]
569 Rahway Ave. Woodbridge, NJ 07095
Fred Madden (D-4)
856-232-6700 / 856-401-3073 / [email protected]
129 Johnson Road, Suite 1, Turnersville, NJ 08012
1379 Chews Landing Rd. Laurel Springs, NJ 08021
Vin Gopal (D-11)
732-695-3371 / [email protected]
802 West Park, Suite 221, Ocean Twp., NJ 07712
Joseph Lagana (D-38)
201-576-9199 / [email protected]
205 Robin Rd., Suite 122, Paramus, NJ 07652
Richard Codey (D-27)
973-535-5017 / [email protected]
66 W. Mount Pleasant Ave., Livingston, NJ 07039
Kristin Corrado (R-40)
973-237-1360 / [email protected]
999 Riverview Dr., Suite 350, Totowa, NJ 07512
Ronald Rice (D28)
973-371-5665 / [email protected]
1044 South Orange Ave., Newark, NJ 07106
Robert Singer (R-30)
732-987-5669 / [email protected]
1771 Madison Ave., Suite 202, Lakewood, NJ 08701
James Holzapfel (R-10)
732-840-9028 / [email protected]
852 Highway 70, Brick, NJ 08724
Anthony Bucco (D-25)
973-927-2526 / [email protected]
1040 Route 10 West, 1st Floor Randolph, NJ 07869
Disclaimer: This article is not intended to provide medical advice, diagnosis or treatment. Views expressed here do not necessarily reflect those of GreenMedInfo or its staff.
© [Article Date] GreenMedInfo LLC. This work is reproduced and distributed with the permission of GreenMedInfo LLC. Want to learn more from GreenMedInfo? Sign up for the newsletter here https://www.greenmedinfo.com/greenmed/newsletter.
Source link

Originally published on: December 13th 2019