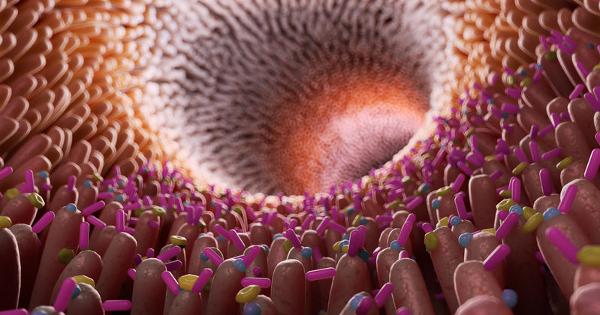 Originally published on: November 19th 2019

Originally published on www.kellybroganmd.com
If you know what depression feels like – the brain clouding, the flat moods, the tiredness – you're not alone. Over 300 million people around the world have depression, and yet there's a lot that we still don't quite understand.1
Thankfully, the medical field is developing some new insights that just might help us understand depression better. In a new 2019 study, researchers decided to examine the potential mechanisms of major depressive disorder in teenage girls and found some evidence that could help us better understand exactly how gut permeability (leaky gut) can lead to inflammation, which in turn, leads to depression.
New Insight into Leaky Gut and Depression
In this 2019 study, Baylor College of Medicine researchers are directly looking at gut permeability and major depressive disorder, a study that is the first of its kind.2
With a sample of forty-one 12-17 year-old teenage girls who were medically healthy, the study measured the severity of the girls' depressive symptoms, the activity of the autonomic nervous system, intestinal permeability, or gut leakiness, and the number of inflammatory cytokines.
To measure whether the girls were depressed, an interviewer performed the Children's Depression Rating Scale-Revised (CDRS-R) and a clinical interview. The CDRS-R is a rating scale that requires interviews of both child and parent to understand the severity of a child's depression. Over the past few decades, the CDRS-R has become the most widely used rating scale for assessing severity and change in depression for clinical trials involving children and adolescents.3 In order to collect data on the autonomic nervous system activity, researchers measured pre-ejection period (PEP) and respiratory sinus arrhythmia (RSA) data, which are indicators for the activity levels of the sympathetic nervous system and parasympathetic nervous system respectively. They measured the leakiness of the gut using the lactulose-mannitol ratio (LMR), which involves having the teens first fast overnight and then ingesting a premeasured amount of lactulose and mannitol. The researchers then collected the urine for four hours after ingestion. By looking at the ratio of lactulose and mannitol that passed through the gut lining, researchers could calculate the permeability of the gut lining, or how "leaky" it was. To measure inflammation, the researchers took blood samples and measured inflammatory cytokines.
They found that in unmedicated teenage girls between the ages of 14-17, depression severity was associated with increased intestinal permeability, as measured by the lactulose to mannitol ratio. The leakier the gut, they found, the more severe the depression and depressive symptoms. They saw that the higher the concentration of the cytokine IL-1β, the more severe the depression. They also found that increased intestinal permeability may be the path between sympathetic nervous system activation and depression severity. Additionally, their evidence suggested that increased intestinal permeability may activate the innate immune system and push the development of depression.
The result of this study also helps clarify the mechanisms through which activating the sympathetic nervous system can increase gut permeability and activate the innate immune system–two things that are likely contributing to depression symptoms.
The Brain, The Gut, and the Immune System
If you're wondering why intestinal permeability is related to depression, let's back up and walk through the whole pipeline.
We start with the immune system. Throughout the last century, psychiatry has been exploring the role of the immune system in certain presentations of depression. Importantly, the gut houses over 70% of our immune system, which makes sense given that the lining of your gut is the barrier between your insides and the outside world. The gastrointestinal epithelium usually forms a single-cell-thick barrier that prevents the free movement of toxicants, microbes, and microbial antigens from entering into the rest of your body. This lining usually does a good job absorbing things we need (like food) and interfacing with foreign things that might wreak havoc–which is probably why most of our immune cells are located in the gut.4 The relationship between the gut and the brain is both complex and important. We've all felt the butterflies in our stomachs when we're nervous or anxious, but it turns out that the relationship between the brain and the gut is actually bidirectional. Not only can our brains affect how our guts feel, but our gut can relay its state of calm or alarm to the nervous system and send those immune reactions up the vagus nerve to the brain.
To understand how the gut and depression are related, we should first better comprehend the triggers for inflammation, what inflammation is, and how it happens.
Stress Drives Inflammation
So what IS inflammation in the first place? Inflammation is the body's defensive response to stresses, like injury or the ingestion of bodily-incompatible chemicals. Upon approaching a stressor, the immune system kicks into a higher gear to heal the body.
Stress is a catch-all term, a trigger that links hormones to inflammation. Essentially, when the body thinks something is wrong, the body releases hormones that tell the body to be on the lookout and get on defense, and inflammation occurs. These triggers can come in all forms, many of which are actually staples of modern American life, from sugar to stress to pesticides and pollution to anxiety to beyond. Whether psychological or physiological, stress drives the inflammation response by telling the brain to release cortisol, the steroid hormone that acts as nature's built-in alarm system and makes it for our bodies to use blood sugar for energy so that we can flee from whatever is causing the stress.5
Once inflammation is started, not only does inflammation cause more inflammation, but recent studies have linked low-grade inflammation to depression. When inflammation reaches the brain, cells begin to take their limited supply of tryptophan to produce more anxiety-provoking chemicals like quinolinate.6 Medical literature has found that inflammation seems to be a consistent marker of depressive symptoms, like flat mood, slowed thinking, avoidance, alterations in perception, and metabolic changes.
How does inflammation get provoked in the gut?
So let's understand how exactly a leaky gut can lead to inflammation – the body's language of imbalance.
When the body is stressed, the junctions between cells in the stomach can be less effective than they should be.7 This allows bacteria and toxicants to enter the bloodstream that can continue to cause widespread inflammation and possibly trigger a far-reaching reaction from the immune system.8 Having leaky gut cause inflammation sets off a problematic chain of events because the gut has a direct link to the brain through the vagus nerve.9
The medical field has been slowly inching up on a fuller understanding of the link between intestinal permeability ("leaky gut") and depression. Previous studies focusing on depression and have found the chemical hints of leaky gut. For example, one study showed that patients with a recent suicide attempt had higher concentrations of an anti-lipopolysaccharides (LPS) antibody, meaning that the immune system had either encountered more of or reacted defensively against LPS, which is a molecule that marks microbe-associated patterns in the body.10 In another study, compared to healthy controls, adults with depressive or anxiety disorders, who didn't have any symptoms of gastrointestinal disorders, still had higher concentrations of fatty acid-binding protein-2, which is produced to signify impaired intestinal epithelium integrity.11 These studies, and the first study we discussed in this post, suggest that intestinal permeability may be impaired in depression.
So What Do We Do?
All of this sounds kind of complicated, but really, this approach to depression-seeing it as a symptom that results in unhealthy inflammatory balance-means that we might be able to do more about it. It means that depression isn't happening because of genetics or not enough serotonin. Instead, you're probably experiencing low-grade inflammation that's happening because your gut is stressed and leaky. The goal is to send your system a signal of safety – from the gut, from the mind, or by lessening perceived stressors and burdens through detox.
Interested in step-by-step support to help you optimize your health?
Vital Life Project is a community for like-minded wellness seekers in search of a better way to live with vitality in a world that can make it challenging to move toward this goal.
This monthly membership provides guidance and accountability to help you make small changes in mindset and daily routine that can lead to radical shifts in health reclamation.
Click below to be the first to know when our doors open this Spring!
---
References
1 https://www.healthline.com/health/depression/facts-statistics-infographic
2 https://www.sciencedirect.com/science/article/pii/S0165032718321116?via%3Dihub
3 https://www.highriskdepression.org/forms/Childrens%20Depression%20Rating%20Scale-Revised.pdf
4 https://www.vivo.colostate.edu/hbooks/pathphys/digestion/basics/gi_immune.html
5 https://www.sciencedirect.com/science/article/abs/pii/S0031938406003799
6 https://www.ncbi.nlm.nih.gov/pmc/articles/PMC2908021/
7 https://www.ncbi.nlm.nih.gov/pubmed/27848962
8 https://www.ncbi.nlm.nih.gov/pmc/articles/PMC4432792/
9 https://kellybroganmd.com/from-gut-to-brain-the-inflammation-connection/
10 https://www.ncbi.nlm.nih.gov/pmc/articles/PMC5503102/
11 https://refhub.elsevier.com/S0165-0327(18)32111-6/sbref0096
Dr. Brogan is boarded in Psychiatry/Psychosomatic Medicine/Reproductive Psychiatry and Integrative Holistic Medicine, and practices Functional Medicine, a root-cause approach to illness as a manifestation of multiple-interrelated systems. After studying Cognitive Neuroscience at M.I.T., and receiving her M.D. from Cornell University, she completed her residency and fellowship at Bellevue/NYU. She is one of the nation's only physicians with perinatal psychiatric training who takes a holistic evidence-based approach in the care of patients with a focus on environmental medicine and nutrition. She is also a mom of two, and an active supporter of women's birth experience. She is the Medical Director for Fearless Parent, and an advisory board member for GreenMedInfo.com. Visit her website.
Disclaimer: This article is not intended to provide medical advice, diagnosis or treatment. Views expressed here do not necessarily reflect those of GreenMedInfo or its staff.
© [Article Date] GreenMedInfo LLC. This work is reproduced and distributed with the permission of GreenMedInfo LLC. Want to learn more from GreenMedInfo? Sign up for the newsletter here https://www.greenmedinfo.com/greenmed/newsletter.