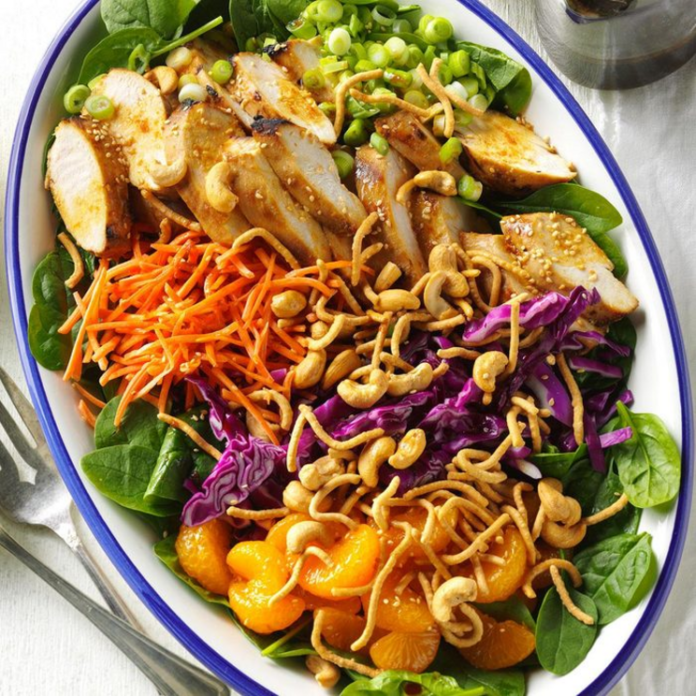 I revamped an Asian-style chicken salad recipe to create this gingery, crunchy salad. Now it's a huge success when I serve it at ladies luncheons. —Shelly Gramer, Long Beach, CaliforniaTotal Time
Ingredients
1/2 cup cider vinegar
1/2 cup molasses
1/3 cup canola oil
2 tablespoons minced fresh gingerroot
2 teaspoons reduced-sodium soy sauce
1 teaspoon salt
1/8 teaspoon cayenne pepper
4 boneless skinless chicken breast halves (6 ounces each)
SALAD:
8 ounces fresh baby spinach (about 10 cups)
1 can (11 ounces) mandarin oranges, drained
1 cup shredded red cabbage
2 medium carrots, shredded
3 green onions, thinly sliced
2 cups chow mein noodles
3/4 cup salted cashews, toasted
2 tablespoons sesame seeds, toasted
Directions
In a small bowl, whisk the first 7 ingredients until blended. Pour 3/4 cup marinade into a large shallow dish. Add chicken; turn to coat. Cover and refrigerate at least 3 hours. Cover and refrigerate remaining marinade.
Preheat broiler. Drain chicken, discarding marinade in dish. Place chicken in a 15x10x1-in. baking pan. Broil 4-6 in. from heat 4-6 minutes on each side or until a thermometer reads 165°. Cut chicken into strips.
Place spinach on a serving platter. Arrange chicken, oranges, cabbage, carrots and green onions on top. Sprinkle with chow mein noodles, cashews and sesame seeds. Stir reserved molasses mixture; drizzle over salad and toss to coat. Serve immediately.
Editor's Note
To toast nuts, bake in a shallow pan in a 350° oven for 5-10 minutes or cook in a skillet over low heat until lightly browned, stirring occasionally.
Nutrition Facts
1-1/2 cups: 379 calories, 18g fat (3g saturated fat), 47mg cholesterol, 533mg sodium, 33g carbohydrate (16g sugars, 3g fiber), 23g protein. Diabetic Exchanges: 2-1/2 fat, 2 lean meat, 1-1/2 starch, 1 vegetable.