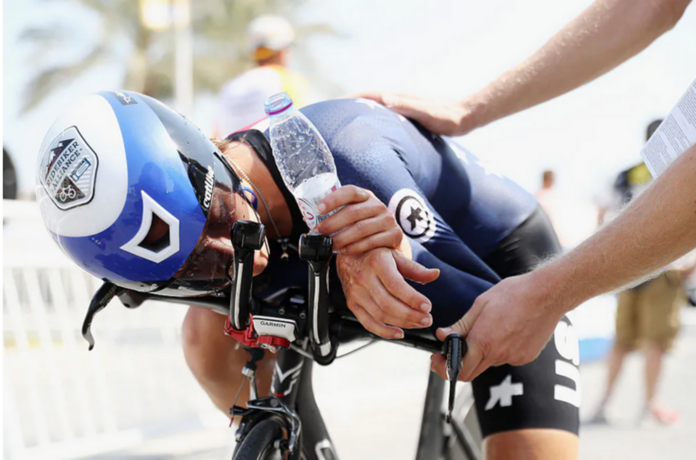 Female athlete retires after competing against biological men
 – says girls 'no longer have a fair chance'
Hannah Arensman of the USA cools down after the Junior Women's Individual Time Trial during Individual Time Trial during day two of the UCI Road World Championships in Doha, Qatar on Oct. 10, 2016. (Bryn Lennon/Getty Images)
Hannah Arensman, a 35-time national cyclocross winner, decided to retire at the age of 25 following a loss to a transgender competitor. She shared her decision along with 67 female athletes and supporters in a recent Supreme Court amicus brief filing (pdf) in support of a West Virginia law that would keep biological men out of women's sports.
"I have decided to end my cycling career," Arensman declared last Wednesday.
In her statement, Arensman recalled her final race in the elite women's division of the UCI Cyclocross National Championships in late December, where she finished in the 4th place, flanked on either side by competitors she identifies as male riders. "I came in 4th place, flanked on either side by male riders awarded 3rd and 5th places," she stated.
She recounted the emotional toll this had on her and her family: "My sister and family sobbed as they watched a man finish in front of me, having witnessed several physical interactions with him throughout the race."
Furthermore, Arensman expressed her frustration over the possibility that she might have been overlooked for international selection on the U.S. team at the Cyclocross Worlds in February 2023 due to a male competitor. "It is difficult for me to think about the very real possibility I was overlooked because of a male competitor," she shared.
In her detailed account, Arensman voiced her discontent over what she perceives as an unequal playing field, stating: "It has become increasingly discouraging to train as hard as I do only to have to lose to a man with the unfair advantage of an androgenized body that intrinsically gives him an obvious advantage over me, no matter how hard I train."
In her statement, she also expressed concern for the young girls entering the field of competitive sports: "I feel for young girls learning to compete and who are growing up in a day when they no longer have a fair chance at being the new record holders and champions in cycling."
Expressing her frustration and disappointment, Arensman criticized the authorities for not ensuring fair competition in women's sports: "I have felt deeply angered, disappointed, overlooked, and humiliated that the rule makers of women's sports do not feel it is necessary to protect women's sports to ensure fair competition for women anymore."
Her statement and those from other disenfranchised female athletes were disseminated by the Independent Council on Women's Sports.
Legal Battle
Selina Soule, a track and field champion, has emerged as a pivotal figure in pushing for the restoration of fairness in women's sports. With a legal battle on the horizon, Soule is rallying support from those affected by this contentious issue.
Soule described the situation as "devastating," expressing concern over the future of women's sports. "It's devastating that there are women out there who are retiring or changing their events because they are being forced to compete against biological males where those males, if they were competing in the men's category, they would be barely mediocre. But in the women, they are dominating the field, and it's a very, extremely frustrating situation," she told Fox News on May 24. "It should not be happening. Women's sports should be preserved as just women's sports."
Speaker of the House Kevin McCarthy (R-Calif.) joins Rep. Virginia Foxx (R-Va.), track and field athlete Selina Soule (in pink suit) and other Republicans for an event to celebrate the House passing The Protection Of Women And Girls In Sports Act outside the U.S. Capitol on April 20, 2023 in Washington. (Somodevilla/Getty Images)
Soule's experiences competing against biological males during her high school career have fueled her call for action. "Everybody who has encountered this issue needs to speak up and ask for fairness," Soule said.
In 2020, Soule, alongside other student-athletes, initiated a lawsuit against the Connecticut Association of Schools. The suit challenged a state ruling that allowed transgender students to participate in sports consistent with their gender identity. Despite the judge dismissing the lawsuit on procedural grounds, Soule, backed by the Alliance Defending Freedom, is preparing to appeal the ruling​.
The repercussions of the current policy are far-reaching, according to Soule's attorney Christiana Kiefer. "Girls deserve to compete on a level playing field, and what Selena experienced … was being sidelined in her own sport and that's a clear violation of Title IX," Kiefer argued during the Fox News​​ show.
On April 6, the U.S. Department of Education (DOE) released a notice of proposed rule-making on athletic eligibility for transgender students who participate in school sports. Some states recently have banned these students from participating on teams different from their biological sex.
The Biden administration proposal, as explained in the Federal Register, "would govern a recipient's adoption or application of sex-related criteria that would limit or deny a student's eligibility to participate on a male or female athletic team consistent with their gender identity."
Former high school athlete Selina Soule, who competed within the Connecticut Interscholastic Athletic Conference. (Alliance Defending Freedom)
Officially, the rule-change proposal is listed as "Nondiscrimination on the Basis of Sex in Education Programs or Activities Receiving Federal Financial Assistance: Sex-Related Eligibility Criteria for Male or Female Athletic Teams."
A national conservative watchdog group, Citizens Defending Freedom, has been encouraging people to flood the online page of the Federal Register with comments about the proposed rule change to Title IX.
Darlene McCormick Sanchez contributed to this report.
---