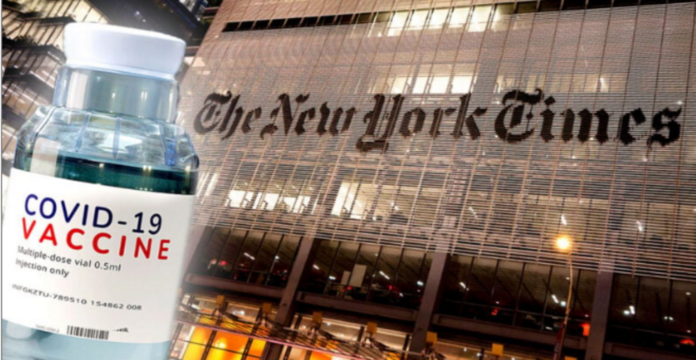 Dr. Pierre Kory: New York Times guide to fall vaccine shots is 'disinformation'
 Nirav Shah, M.D., J.D., principal deputy director of the Centers for Disease Control and Prevention, told The New York Times children 6 months and older should get the COVID-19 vaccine this fall, adding, "Do you want to see your grandpa … [and] grandma? Are you really sure you're not going to give COVID to them?"
This article was originally published by The Defender — Children's Health Defense's News & Views Website
Miss a day, miss a lot. Subscribe to The Defender's Top News of the Day. It's free.
The New York Times on Sept. 1 published a "guide to fall vaccine shots," which included recommending the general public get COVID-19, flu and RSV (respiratory syncytial virus) vaccines, and infants 6 months and older receive COVID-19 shots this fall.
Written by Times senior writer David Leonhardt, the guide warns about rising COVID-19 cases and the approaching flu season, before offering, "The good news is that there are vaccines and treatments that reduce risks from all major viruses likely to circulate this season."
According to the Times, "This year, we should take a broader approach," rather than "obsess over COVID."
Peter Hotez, M.D., Ph.D., dean of the National School of Tropical Medicine at the Baylor College of Medicine — described by the Times as a "vaccine expert" — echoed that appeal. "It's not only COVID you have to think about," he said.
Hotez, Nirav Shah, M.D., J.D., principal deputy director of the Centers for Disease Control and Prevention (CDC), and other public health officials and experts quoted by the Times recommended Americans prepare for the upcoming fall and winter by getting the trio of COVID-19, flu and RSV vaccines.
None of these experts, however, addressed any of the potential safety risks posed by these vaccines.
Medical and public health experts who spoke with The Defender took a different view and questioned the Times' guide, citing concerns about the safety and efficacy of vaccines for respiratory illnesses.
"Vaccines against respiratory illnesses have failed miserably," said cardiologist Peter McCullough M.D., MPH. "America is wary of vaccines at this point, wanting to get on with life free of menacing vaccines, and are willing to seek early treatment, which is always the best way to handle infections, vaccinated or not."
Pediatrician Dr. Liz Mumper, president and CEO of the Rimland Center for Integrative Medicine, told The Defender, "There have been no studies examining the effects of giving RSV vaccine, flu vaccine and COVID vaccine at the same time."
"If you follow the advice in The New York Times article," Mumper said, "be aware that your child will be part of post-marketing experimentation."
RFK Jr./Hooker NEW book: Vax-Unvax. Order Now!
Times still pushing vaccine propaganda
According to the Times, "The best defenses against COVID haven't changed: vaccines and post-infection treatments," which are "especially important for vulnerable people, like the elderly and immunocompromised."
The federal government is "on track" to approve updated COVID-19 shots, designed to combat recent variants, in mid-September, the Times reported. Once they are available, "all adults should consider getting a booster shot."
"COVID can still be nasty even if it doesn't put you in the hospital," the Times states. "A booster shot will reduce its potency."
Hotez resurrected a claim heard often during 2021 and 2022, telling the Times, "Overwhelmingly, those who are being hospitalized are unvaccinated or undervaccinated."
Experts who spoke with The Defender disagreed.
Harvey Risch, M.D., Ph.D., professor emeritus and senior research scientist in epidemiology (chronic diseases) at the Yale School of Public Health, citing data from U.K. Public Health, said, "All-cause deaths ages 18+ are disproportionately among vaccinated people, whether one, two or three doses, compared to unvaccinated people."
"The statistic quoted by Dr. Hotez is false," Risch said.
Brian Hooker, Ph.D., senior director of science and research for Children's Health Defense (CHD) said, "The new booster simply hasn't been tested to affirm any assertion of protection. The original trials on children were laughable as they looked at antibody titers rather than actual disease prevention."
McCullough told The Defender, "The COVID-19 vaccines have been a safety debacle with record cases of myocarditis, blood clots, stroke, and all-cause mortality."
Despite the injury and mortality reports and the Times' admission that the risk of COVID-19 to young children is "very low," Shah nonetheless recommended children as young as 6 months of age get the COVID-19 booster shots this fall.
"Do you want to see your grandpa … [and] grandma?" Shah asked in the Times. "Are you really sure you're not going to give COVID to them?"
Experts who spoke with The Defender refuted Shah's advice.
Dr. Pierre Kory, president and chief medical officer of the Front Line COVID-19 Critical Care Alliance (FLCCC), said "There is no medical justification for a healthy 6-month-old or older child to be vaccinated for COVID-19," adding:
"There is so little data available on the safety of the COVID-19 vaccine in children that to give blanket recommendations like Shah is doing creates an unnecessary risk to children's health.
"We simply do not know enough about the COVID-19 vaccines to make such broad recommendations. Additionally, COVID-19 is highly treatable in children and poses very little risk to a healthy child."
Mumper told The Defender, "Any official who advocates that children take a vaccine to protect grandparents has not read the medical literature carefully." She said, "After doing a deep dive on the risks and benefits of COVID vaccines in children, I remain steadfastly opposed to their use in healthy children," adding:
"Any immunity from COVID shots is short-lived and follows a period of immune suppression. Very worrisome adverse events like inflammation of the heart, triggering autoimmunity, interfering with autonomic functions and reproductive toxicity are well described in the medical literature."
Not all countries following suit
Some countries began limiting COVID-19 vaccination for children last year. In April 2022, Denmark ended its blanket COVID-19 vaccination recommendation, including for children.
Now, Denmark recommends "booster-vaccination" only for people "aged 50 years and above and selected target groups."
Earlier in 2022, public health authorities in Sweden and Norway opted not to recommend COVID-19 vaccines for children between the ages of 5 and 11.
Sweden now recommends COVID-19 vaccination only for those 50 and above (18 and above for high-risk groups),  while Norway is still only recommending COVID-19 vaccines for those 65 and older (and as young as 5 for high-risk groups).
In March of this year, the World Health Organization (WHO) said healthy children and adolescents ages 6 months to 17 years have a "low disease burden" and are therefore low priority for vaccination.
In June, Australian public health officials said Moderna's COVID-19 vaccine is "no longer available" for children under 12, and in January, U.K. public health authorities ended their booster program for those under 50.
COVID vaccine recommendations 'not science, not medicine, not public health'
Dr. Meryl Nass, an internist and member of CHD's scientific advisory committee, told The Defender that while public health authorities and the media continue to recommend COVID-19 vaccines, none of them have been fully licensed in the U.S., as all such vaccines are available under Emergency Use Authorization (EUA) only.
In May 2022, the U.S. Food and Drug Administration (FDA) said that COVID-19 vaccines for kids under 6 would not have to meet the agency's 50% efficacy threshold required to obtain an EUA.
CDC data released in September 2022 showed that more than 55% of children between 6 months and 2 years old had a "systemic reaction" after their first dose of the Pfizer-BioNTech or Moderna COVID-19 vaccines.
"The CDC, criminally, claims the (authorized) vaccines are 'safe and effective,'" Nass said, adding:
"That is a term of art that is only allowed to be used for licensed vaccines and drugs. No licensed COVID-19 vaccine is available in the U.S. Public health is supposed to balance benefit and risk.
"This is not science. Not medicine. Not public health."
Order Now 'The Wuhan Cover-up' by RFK Jr.!
Flu vaccines have demonstrated 'declining efficacy'
According to the Times, "The most immediate step worth considering involves R.S.V." On Sept. 5, the CDC issued a health advisory warning of rising RSV cases in parts of the U.S., particularly among children and babies.
Last month, the CDC signed off on the first-ever monoclonal antibody vaccine Beyfortus for the prevention of RSV, for babies up to 8 months old.
Also last month, the FDA approved an RSV vaccine for pregnant women, despite concerns raised by some medical experts about premature births identified during clinical trials. In May, the FDA approved Pfizer's Abrysvo and GlaxoSmithKline's Arexvy RSV vaccines for people 60 and older.
The Times quoted Ashish Jha, M.D., MPH, former White House COVID-19 adviser and now dean of Brown University's School of Public Health, who said, "If you're 60 or over, you don't want to get into November without having an RSV vaccine."
And though there is no RSV vaccine approved for administration to children, the Times said that "parents may want to ask their pediatrician" about monoclonal antibody treatment for children under 8 months of age.
According to Hooker, "the RSV vaccine given to pregnant women could not even make a 20% threshold for protection (as specified by the FDA) against lower respiratory RSV infection."
Supporting the push for the flu vaccine, the Times and experts such as Jha said, "The flu officially kills about 35,000 Americans in a typical year," but "the flu's toll would be lower if more people got a vaccine shot," noting that "In recent years, less than half of Americans have done so."
Jha added, "We underestimate the impact that respiratory viruses have on our population. The flu can knock people out for weeks, even younger people." Jha pointed out that flu can make heart attacks and strokes more common as well.
Kory, however, told The Defender that the COVID-19 vaccines have made people more susceptible to other respiratory illnesses, like the flu and RSV:
"In my practice, we treat many vaccine-injured patients who are now more susceptible to the flu, RSV and many other viruses. The COVID vaccines cause many to present as if they have an autoimmune disease and now respond with more severe symptoms to common viruses like the flu."
Risch, meanwhile, said, "Traditional flu vaccines are considered to be safe for most people" and may be a "reasonable" option for them, but "this should be discussed with one's healthcare provider."
"The flu vaccines seem to have had declining benefit over the last 10-15 years, to the point now that they may confer only a 30% benefit," Risch added.
And according to Hooker, "The flu shot is also notoriously bad at protection against the flu and there are very few data regarding this season's flu shot efficacy."
Your support helps fund this work, and CHD's related advocacy, education, and scientific research.
'Ludicrous' public health messaging
Shah's recommendation that children as young as 6 months get a COVID-19 shot this fall follows in a long line of questionable advice and claims disseminated by public health officials, some of which were later contradicted.
In a May 2021 MSNBC interview, Dr. Anthony Fauci, then-head of the National Institute of Allergy and Infectious Disease (NIAID), said:
"Although you don't like to see breakthroughs, the fact is, this is one of the encouraging aspects about the efficacy of the vaccine. It protect you completely against infection. If you do get infected, the chances are that you're going to be without symptoms, and the chances are very likely that you'll not be able to transmit it to other people."
Fauci's statements, however, failed to account for the many examples of breakthrough infections with severe symptoms and hospitalization.
After years of official "safe and effective" claims, in YouTube's new "medical misinformation" policy introduced Aug. 15, "Claims that any vaccine is a guaranteed prevention method for COVID-19" are prohibited. Fauci's videos from 2021, notably, are still up on YouTube.
In April 2020, Fauci said that remdesivir will become the "standard of care" for treating COVID-19. But numerous victims of COVID-19 hospital protocols prescribed by the CDC have come forward in recent months claiming that remdesivir was administered without permission of the patients or their families and contributed to further injury or death.
Similarly, former CDC Director Rochelle Walensky said in March 2021 "Our data from the CDC today suggests … that vaccinated people do not carry the virus, don't get sick … can't transmit it to others." She doubled down on these statements during a House Select Subcommittee on the Coronavirus Pandemic hearing in June, asserting that her statement "was generally accurate."
Hooker said these statements were "obviously patently false, as the vaccines distributed in the U.S. at that time [in 2021] were not tested for transmission and there was evidence of 'breakthrough' infections even in the clinical trials."
"This obviates any protection to 'Grandma and Grandpa' through children getting vaccinated against COVID-19," Hooker added.
Also in 2021, Walensky recommended wearing pantyhose over a mask to ensure a tight fit.
Nass called such public health messaging "ludicrous," noting that Walensky's pantyhose recommendation "quickly disappeared" because it "had connotations the CDC was not willing to deal with."
Kory criticized the Times' fall vaccine guide, characterizing it as an example of "disinformation."
"The New York Times is carrying the disinformation that continues to come from the CDC and other government health agencies," he said. "This is one of the reasons that the public continues to lose trust in the media and our government."
As a result, public health officials "create a mockery of how medical and scientific evidence is used to inform patient care decisions and public health policy," Kory said.
Other experts who spoke with The Defender suggested taking vitamins to boost one's immune system, rather than a series of vaccinations.
"For the immune system to defend against respiratory viruses, all people should take daily vitamin D to achieve blood levels of 50 or greater," Risch said. "This is typically 5,000 units per day for a 150-lb person, but can be adjusted up or down according to body weight."
"Serious RSV infections generally occur only in the youngest young and the oldest old.  People in these categories should discuss this with their doctors," he added.
Subscribe to The Defender – It's Free!
Sign up for free news and updates from Children's Health Defense. CHD focuses on legal strategies to defend the health of our children and obtain justice for those injured. We can't do it without your support
This article was originally published by The Defender — Children's Health Defense's News & Views Website under Creative Commons license CC BY-NC-ND 4.0. Please consider subscribing to The Defender or donating to Children's Health Defense.
---