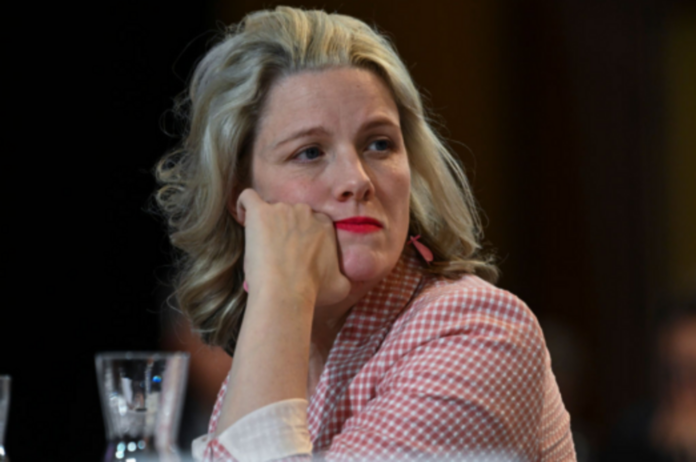 Trump Jr. says Australian Home Affairs Minister needs to make room for Free Speech
Donald Trump Jr., at President Donald Trump's MAGA rally in Grand Rapids, Mich., on March 28, 2019. (Charlotte Cuthbertson/The Epoch Times)
Donald Trump Jr. has criticised media outlets and the Australian Labor government for spreading "fake news" about his upcoming speaking tour.
The son of the former U.S. president's comments come in response to ongoing criticism from federal Labor ministers culminating in a now-deleted Twitter post from the Australian home affairs minister who called Mr. Trump Jr. a "sore loser."
Organisers of Mr. Trump Jr.'s speaking tour were forced to postpone the event after his visa application was held up for longer than usual.
"The tyrannical Left doesn't believe people have the right to freedom of expression and will do anything to shut down conservative voices, but we will not bow down to them," he told the Daily Mail.
"If Minister Clare O'Neil isn't too much of a coward to leave her left-wing safe space, I'd be happy to invite her to attend any of the events that we put on.
"You never know; maybe she'll learn a thing or two about the importance of freedom of speech and diversity of thought."
He also said that despite the "ridiculous lies" from fake news outlets, the tour had been doing very well, with over 8,000 tickets sold so far.
Clare O'Neil, Labor Minister for Home Affairs and Minister for Cyber Security, attends the jobs and skills summit at Parliament House in Canberra, Australia, on Sept. 1, 2022. (Martin Ollman/Getty Images)
Minister Parrots Media Line
The comments from Mr. Trump Jr. come after Home Affairs Minister Clare O'Neil parroted the same line as left-wing media in responding to the visa controversy.
In a since-deleted post on Twitter, Ms. O'Neil claimed that the tickets for Mr. Trump Jr. speaking tour were not selling well.
"Geez, Donald Trump Jr. is a bit of a sore loser. His dad lost an election fair and square—but he says it was stolen," the home affairs minister wrote on Twitter on July 6.
"Now he's trying to blame the Australian government for his poor ticket sales and cancelled tour.
"Donald Trump Jr. has been given a visa to come to Australia. He didn't get cancelled," she added. "He's just a big baby who isn't very popular."
The post was deleted hours later, reported at the direction of the prime minister's office.
Her actions were quickly criticised by Opposition Sen. James Paterson, who warned it could spark a future diplomatic incident.
"Like it or not, Trump could be elected president again in less than 18 months," he wrote on Twitter. "If that happens, I hope for the sake of the AUKUS agreement that cabinet ministers in national security portfolios are able to restrain themselves from juvenile tweets like these."
Mr. Paterson also said Ms. O'Neil, in her capacity as home affairs minister, should focus on serious national security challenges instead.
On July 5, attendees of the event were advised the event had been postponed.
It was later revealed that Mr. Trump Jr. had only received visa approval 24 hours before he was due to board his flight to Sydney, despite submitting an application in May (approvals should require 21 days).
'Character Grounds': Home Affairs Department Stands by Decision
The Home Affairs Department told The Epoch Times it would not comment on individual cases but issued this statement:
"The Australian government will continue to act decisively to protect the community from the risk of harm posed by individuals who choose to engage in criminal activity or behaviour of concern, including visa cancellation or refusal where appropriate," said a spokesperson for the Department.
"All non-citizens who wish to enter or remain in Australia must satisfy the requirements of the Migration Act 1958 (the Act) and Migration Regulations 1994, including identity, health, security, and character requirements."
According to the Home Affairs website, a person may not meet character requirements if they have engaged in criminal behaviour or if authorities believe they could potentially "vilify a segment of the Australian community," "incite discord," or "pose a danger" to the community.
Andrew Cooper, the main organiser for the Conservative Political Action Conference—Australia, said visa delays were a common problem he faced with bringing speakers down under.
He said similar delays occurred last year when Brexit campaigner Nigel Farage only received his visa when he was boarding his flight.
---