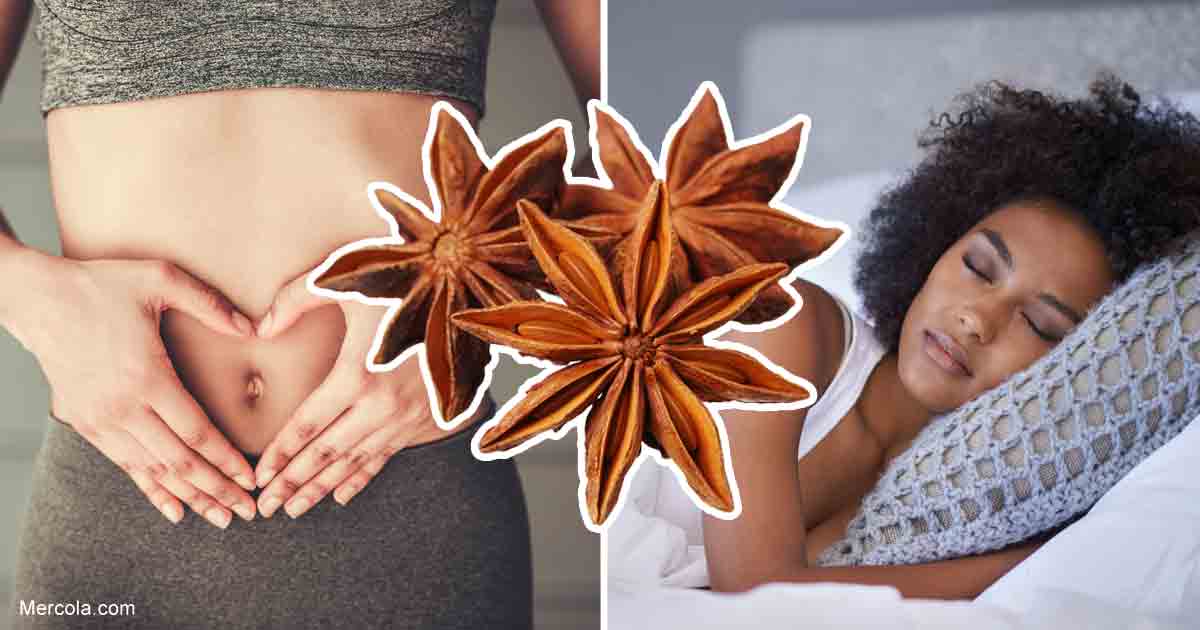 Star Anise: Add This Special Spice to Your Meals
Story at-a-glance
–
Star anise is typically used in Asian cuisine. It's sweet and spicy, and has a licorice taste chefs love to add to their dishes

This spice, which shouldn't be confused with Spanish anise, has antifungal and antibacterial properties that may help address flu, digestive problems and sleep disorders, and may even help decrease cancer risk

Star anise essential oil may be useful in alleviating certain conditions, but you must use it under the supervision of a medical professional to avoid side effects
Spices come in all shapes and sizes, and star anise (Illicium verum Hook.f.)1 is a classic example. Its dark and attractive color and unique star shape makes it stand out from other spices. There's also research highlighting potential health benefits star anise can offer, making it a spice you should consider adding to your cooking arsenal.
What Is Star Anise?
Star anise grows as dark brown pods with six to eight segments each containing a seed. This spice hails from an evergreen tree plant native to southwest China2 and northeast Vietnam, although it's also cultivated in Spain, France, Italy, Morocco, India and the Philippines.3 Star anise tastes sweet and spicy, but slightly more bitter than Spanish anise. Some chefs use it to provide a licorice flavor for savory dishes.4
Some people think that star anise and anise seed are the same. While both spices contain a substance called anethole,5 their similarities end there. Anise seed belongs to the Apiaceae family,6 while star anise comes from the Illiciaceae family.7 Anise seed is used more in Western dishes, particularly in Greek and French cuisines,8 while star anise is more common in Asian cooking.9
6 Health Benefits of Star Anise
If you're looking for a flavorful spice with health benefits, star anise might be a good choice. Research has revealed that star anise may:
1. Provide antioxidants for the body — According to a Journal of Pharmacognosy and Phytochemistry article, star anise extract has potent antioxidant abilities against H2O2-induced cell death and DNA damage.10
2. Help reduce cancer risk — A study published in the journal Chemico-Biological Interactions revealed that animals fed star anise had inhibited cancer development.11 However, more research is needed to show the full extent of this supposed benefit.
3. Exhibit antifungal and antibacterial capabilities — Results showed that star anise extracts and essential oils have antifungal abilities, especially against Candida albicans, a common yeast infection.12
Star anise also has antibacterial properties. Four antimicrobial compounds derived from the spice were effective against nearly 70 strains of drug-resistant bacteria.13
4. Target conditions like influenza and cough — Star anise can help fight influenza because of its shikimic acid content.14 A 2008 study discovered that shikimic acid, together with a plant antioxidant called quercetin, enhanced immune system function and helped protect the body against viral diseases.15 Ingesting star anise may also help relieve cough16 and sore throat.17
5. Improve digestion and dealing with digestive complaints — Star anise tea may help alleviate gas, abdominal cramps,18 indigestion, bloating and constipation.19
6. Address sleep disorders — This spice has mild sedative properties that may aid in calming nerves and ease sleep disorders.20
How to Use Star Anise
Star anise is mainly used for culinary purposes, especially in Chinese, Indian, Malaysian and Singaporean cuisines.21 It can be added to alcoholic and nonalcoholic beverages.22 Star anise is a vital ingredient in Chinese five-spice powder, along with cloves, fennel seeds, Chinese cinnamon and Sichuan peppercorns.23
This spice is also known for its medicinal uses. In traditional Chinese medicine, star anise boasts stimulant and expectorant properties, and may increase libido24 and facilitate proper digestion.25 Research revealed that using star anise tea can help alleviate diseases like colic and arthritis.26
Growing Star Anise at Home
Star anise plants are usually cultivated from cuttings or seeds, and are best grown in USDA zones 7 through 10, in full sun or partial shade.27 According to "Spices: Agrotechniques for Quality Produce," star anise thrives in warm, subtropical climates, and in places where temperatures don't dip below 10 degrees F.
When growing star anise at home, start by sowing seeds in pots or containers, or plant them directly outside. Adding 3 inches of compost or aged manure on the ground around the tree during spring can work as your fertilizer, although you can also apply slow release fertilizer during the same season.28
The soil should be humus- and compost-rich, with a loamy29 and well-drained texture, and with a neutral to acidic pH level.30 Water the plant frequently to keep the soil slightly moist. While the plant is young, actively prune it so it can have the appearance of a bush, and remove dead, diseased and weak branches.
A star anise tree takes at least six years to grow from seeds, so you might have to wait for the plant to fully mature. Once the tree is ready, harvest star anise while they're still green, and then sun-dry them until their color changes to a reddish-brown hue. The seeds can be removed from the pods after.31
Try These Delicious Recipes With Star Anise
You can find whole or ground star anise in Asian supermarkets or spice stores,32 although whole spices are more ideal. Grind whole star anise using a spice grinder or mortar and pestle. Keep unused star anise inside an airtight container in a cool and dark place that isn't exposed to heat, moisture or sunlight, where it can keep for at least one year.33 If you bought ground star anise powder, use it within six months, or else you'll end up with a spice that lacks flavor.34
In cooking, star anise is used to enhance the flavors of duck, eggs, fish, leeks, pears, pork, poultry, pumpkin, shrimp or pastry, to name a few.35 It also goes well in soups, just like this carrot soup with star anise recipe:36
Carrot Soup With Star Anise
Ingredients
3 tablespoons grass fed butter
1 1/2 cups chopped onion
6 large fresh thyme sprigs
5 whole star anise, divided
2 small bay leaves
1 large garlic clove, chopped
2 1-pound bags peeled organic baby carrots
2 cups homemade chicken or bone broth
Procedure
Melt butter in large pot over medium-high heat.
Add onion, thyme, three star anise pods, bay leaves and garlic. Sauté until they soften, for about five minutes.
Add carrots and broth. Bring to boil. Cover, reduce heat to medium-low and simmer until carrots are very tender, for about 30 minutes.
Remove and discard thyme sprigs, star anise and bay leaves.
Working in small batches, puree soup in blender until very smooth and return to same pot. Season with salt and pepper. This can be made one day ahead. Cool slightly, cover and chill. Rewarm over low heat before continuing.
Finely grind remaining star anise in spice mill or coffee grinder. Ladle soup into bowls. Sprinkle with ground star anise.
Serving size: 6 to 8
As mentioned, star anise tea may help relieve certain illnesses. If you want to brew your own tea, follow this recipe, which features other healthy ingredients:37
Cinnamon-Star Anise Green Tea Recipe
Ingredients
2 tablespoons (8 grams) medium-size loose-leaf organic green tea or 4 organic green tea bags
1 5-inch cinnamon stick, broken into pieces
8 whole star anise or 1 1/2 tablespoon broken star anise pieces
4 cups boiling water
Procedure
Place tea leaves or tea bags into a prewarmed teapot and set aside.
Add the cinnamon stick and star anise into a 4-cup heatproof measuring cup. Add the boiling water, stir the mixture and infuse for two minutes.
Pour infusion into the teapot. Carefully strain it to prevent the cinnamon and star anise from being added into the teapot. Steep the tea in the spice infusion for two minutes.
Strain the finished brew, place into teacups and serve immediately.
This recipe makes 2 to 4 servings.
Preparation time: 10 minutes
Cooking time: 5 minutes
Total time: 15 minutes
If you haven't replenished your stock at home, but want its strong licorice flavor in your dishes, here are star anise substitutes you can use:38
Anise seed and a pinch of allspice (one crushed star anise is equivalent to one-half teaspoon crushed anise seed)
Chinese five-spice powder
A few drops of anise extract
Try Star Anise Essential Oil, Too
Star anise seeds can be steam-distilled to produce a pale yellow oil with a licorice-like aroma.39 Their main components are trans-anethole, caryophyllene and limonene.40
Star anise essential oil can be added to aromatherapy blends,41 soaps and perfumes.42 It may aid in relieving bronchitis, colds,43 digestion problems, and painful muscles.44 Combine it with a carrier oil, such as coconut, jojoba, sweet almond or olive oil, before applying topically.
Prior to using, consult your physician and take an allergen patch test to check for potential allergies. Don't use star anise oil if it's oxidized or old,45 or before driving or operating machinery or performing activities that need full attention, as it may slow down your reflexes.46
Potential Side Effects of Star Anise
If you fall under these groups, refrain from using the oil or consuming high amounts of star anise altogether:
Children below 5 years old
Pregnant women
People with endometriosis or estrogen-dependent cancers
While there's information citing star anise's potential in increasing breastmilk production,47 talk to your physician before using the essential oil or consuming high doses of this spice. It's said that star anise, as well as other herbs like yarrow, chickweed and buckthorn, may pass through breastmilk and affect your infant.48 One study found that after star anise tea was given to young infants to relieve colic, neurological troubles occurred, with symptoms such as tremors, spasms and vomiting.49

Sources and References