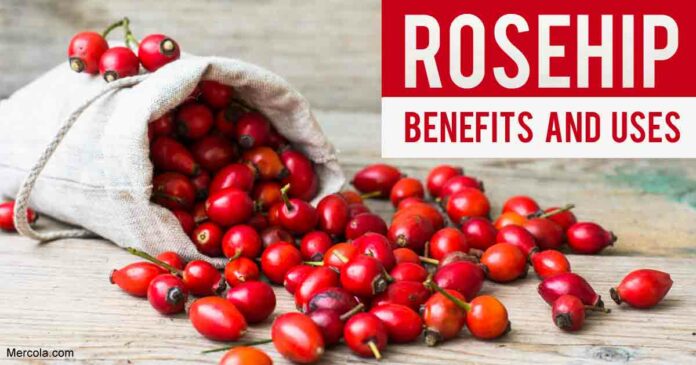 Boost Your Antioxidant and Healthy Fat Intake With Rosehip
Story at-a-glance
–
Rosehip is an edible seedpod that appears on the stems of roses

Research shows that rosehip contains antioxidants and healthy fatty acids that can contribute to healthy skin, inflammation management and better overall well-being

To gain rosehip's health benefits, it can be added to food, brewed or applied topically
The rose is one of the most popular flowers around the world. Various cultures view it as the symbol of love and beauty due to its natural beauty and fragrant qualities. It even symbolized certain historical conflicts, such as the "War of the Roses" in 15th century England.1 But did you know that aside from the lovely blooms, this plant's seeds, called rosehips, may have benefits and uses as well? Published research shows that consuming this part of the plant can be beneficial to your health in various ways.
What Is Rosehips?
Rosehips are the seedpods of roses. They're not often found in the roses you buy at the local flower shop, as these flowers are usually pruned. But if roses are left to grow naturally, rosehip pods grow on the tips of the stems. They are edible, and the flavor is described to have the tartness of crab apples.2
Historically, rosehip has been part of many cultures. Swedes, for example, have made rosehip soup for hundreds of years, and it's a popular dish in their country. Turks, on the other hand, have long used the plant to help provide relief from stomach problems.3 During World War II, the British government asked its citizens to forage rosehip in the countryside to help provide food for the war effort.4
5 Published Benefits of Rosehip
Since rosehip has been used by numerous cultures throughout the centuries, the plant has piqued the curiosity of scientists, who are aiming to learn if the health claims are true. Here are some notable studies that provide insight on how the plant can benefit your health:
Promotes healthy skin recovery — Applying rosehip oil on wounds and scars may help improve their appearance. In one study published in 2015, researchers noted that topical application of rosehip on post-surgical scars helped improve their aesthetics.

5

Boosts antioxidant profile — Rosehip is noted for its strong antioxidant capacities that may help fight dangerous free radicals throughout your body. In a study published in Food Chemistry, a rosehip fruit tea infusion was the highest ranked brew compared to other creations.

6

Relieves pain — Taking rosehip powder may help relieve pain, as it was shown to have a positive effect in people diagnosed with osteoarthritis.

7

Increases healthy fatty acid intake — Healthy fats are essential for optimal well-being, and rosehip has them in spades. A study in International Journal of Food Properties noted that rosehip seed oil contains linoleic acid (54.05 percent), linolenic acid (19.37) and oleic acid (19.5 percent).

8

Linoleic acid, for example, has been noted for its various benefits to cardiovascular health.

9

Lowers risk of cancer — A PLOS One study states that rosehip extracts have a positive effect against human colon cancer cell lines.

10
Other Uses of Rosehip
Rosehip is edible and can be added to foods, or made into drinks.11 It's been a staple in Native American cuisine for hundreds of years, as they were easily found in the wild.12 Topical application of the oil extracted from rosehip can benefit your skin.13 In this article, you'll learn how to make tasty rosehip tea using roses you've grown in your garden for maximum flavor and nutrients.
Growing and Harvesting Rosehip in Your Home
Before cultivating rosehip, you need to learn how to grow roses. You'll be hitting two birds with one stone using this strategy — in addition to having a beautiful garden, you'll also have your own stock of fresh rosehip to use for cooking or aromatherapy.
To start, make sure you have organic rosa rugosa seeds, as they're known to produce plenty of rosehip pods.14 Novice gardeners will have a wonderful time growing this plant, as it is highly tolerant of most soils (even sandy soil), except for poorly drained ones. For the best growing conditions, the ground should be moderately fertile and rich in humus, with a pH level between 5.5 and 7.0.15
Scatter seeds in the soil during the spring and keep them well watered until they sprout. The flower is known to grow in partial shade, but for best results, plant them in a place with full sunlight exposure.16
Once the rose is fully in bloom and harvested, the area directly at the base of the flower will grow into rosehip seedpods.17 It's best to harvest rosehip after the first frost, as this gives the pods a bright red color and soft texture, which is perfect for culinary purposes.18 Rosehip may also be yellow or orange if you used other rose varieties. Be sure to segregate them properly to avoid confusion when growing other rose varieties for their seedpods.19
Try These Two Rosehip Tea Recipes
Rosehip is edible, but most people are not familiar on how to prepare it. The most practical way of introducing yourself to this food is through rosehip tea, which can be easily brewed in the comfort of your own home once you have your own stock of fresh rosehips. To make rosehip tea, follow this recipe, courtesy of Mother Earth Living:20
If you're not fond of the taste of warm tea, you can create an ice-cold version of it:21
Rosehip Seed Oil Is a Potent Tool for Your Arsenal
Rosehip oil, also known as rosehip seed oil, is derived from the pods of the namesake plant. It is known for its subtle woody smell instead of the fragrance the flower is known for. According to MindBodyGreen, the color of the oil can be an indicator of its quality. High-quality rosehip oil can have a deep gold or red-orange color, but inferior ones will have a clear or light yellow appearance.22
Published research notes the strong potential of using rosehip seed in helping promote optimal health. In a 2011 study conducted on mice, researchers discovered that rosehip extracts helped lower total plasma cholesterol as well as balancing overall cholesterol levels. In addition, lowered blood glucose was observed, leading to the conclusion the plant contains antidiabetic properties.23
In another study, rosehip oil was found to have anti-inflammatory and antioxidant effects when used topically. Some skin conditions it may be effective against include eczema, neurodermatitis and cheilitis (lip inflammation).24
To use rosehip oil, simply dilute it in a carrier oil and apply it on your skin. But before you do, make sure you don't have any allergic reactions by doing a skin patch test. Aside from helping ease skin diseases, it may help fade stretchmarks, hyperpigmentation and red spots. It may also help moisturize dry skin.25
Beware When Taking Rosehip Supplements
Rosehip is available as a supplement. Using this method may help increase your intake of antioxidants and healthy fatty acids. However, consult with a doctor first, as it is reported to produce certain side effects such as:26
Pregnant and breastfeeding women are not advised to take medicinal doses of rosehip, as there's little information regarding its safety for these demographics. Lastly, people who have the following conditions should avoid taking rosehip supplements at all costs due to possible complications:27
History of stroke and blood clots
Sickle cell disease
Glucose-6-phosphate dehydrogenase deficiency
Iron-related disorders such as hemochromatosis, thalassemia and anemia
Rosehip May Provide Benefits, but Use It Wisely
Rosehip is a plant that deserves more attention; not only can it assist in improving your well-being, but it also has the indirect benefit of making your garden look better. Published research about this part of the rose outlines several useful applications, such as helping your skin look better and managing inflammation. You can consume rosehip as food or tea, or use its essential oil.
Be careful of its supplement derivatives though, which are known to cause various side effects. If you still choose to go this route, consult with your doctor and look for high-quality products from reputable companies.
Frequently Asked Questions

Sources and References