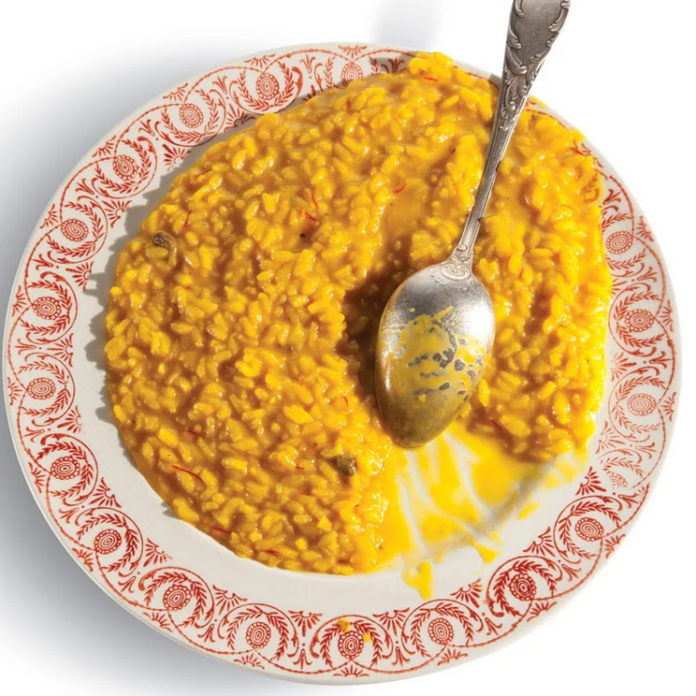 Saffron gives this risotto its vibrant color and flavor.
I was once told that we have the master glazier of Milan's cathedral to thank for risotto alla Milanese, the creamy rice dish that gets its vivid color and flavor from saffron. In 1574, the master hired a disciple nicknamed Zafferano because he used saffron to stain the glass gold. The master teased, "You'll be putting saffron in your risotto next!" Well, it happened that his daughter was to be married. At the celebration, a table held four steaming pots of risotto. The guests were amazed to see it was tinted gold—the wedding gift of all wedding gifts. —Marc Vetri, chef-owner of Vetri restaurant in Philadelphia
What You Will Need
Yield: serves 4
Ingredients
6 cups chicken stock
1 tbsp. saffron threads
3 tbsp. unsalted butter
2 small yellow onions, minced
2 cups Arborio rice
1 cup dry white wine
2 oz. raw bone marrow (optional)
1⁄2 cup grated Parmesan
Kosher salt and freshly ground black pepper, to taste
Instructions
Heat stock and saffron in a 2-qt. saucepan over medium heat; keep warm. Heat butter in a 4-qt. saucepan over medium-high heat. Add onions; cook until soft, about 4 minutes. Add rice; cook until lightly toasted, about 4 minutes. Add wine; cook until evaporated, about 2 minutes. Add 1⁄2 cup warm stock; cook, stirring, until absorbed, about 2 minutes. Continue adding stock, 1⁄2 cup at a time, and cooking until absorbed before adding more, until rice is tender and creamy, about 16 minutes total. Stir in marrow, if using, and Parmesan; season with salt and pepper.