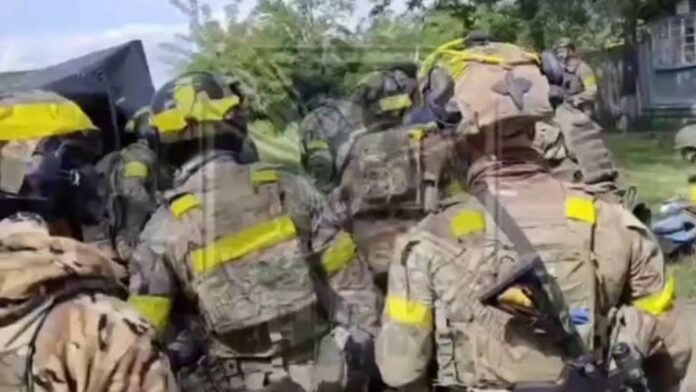 Polish militants claim involvement in attack on Russia
 The "Polish Volunteer Corps" says it infiltrated Belgorod Region alongside Russian neo-Nazis
©  Social networks
Polish militants fighting for Ukraine released a statement on Sunday claiming their involvement in an attack on Russia's Belgorod Region. 
The announcement, accompanied by alleged photo and video evidence, was shared on social media accounts of the so-called "Polish Volunteer Corps."
The statement appears to refer to an incursion by saboteurs into the Grayvoron District of Belgorod Region, which took place on May 22. 
The "Polish Volunteer Corps" said it unequivocally confirmed its role in the operation, stating that the group collaborated with the Russian Volunteer Corps, a neo-Nazi unit of Russian nationals fighting on behalf of Ukraine under the authority of the Ukrainian Defense Ministry.
In a bid to prove its role in the May 22 raid, fighters from the Polish Volunteer Corps shared videos, in which they can be seen with Ukrainian T-72B tanks, American HMMWV armored vehicles, and Mi-8 helicopters of the Ukrainian Armed Forces.
The governor of Belgorod Region, Vyacheslav Gladkov, also mentioned the presence of Polish citizens among the saboteurs. On his Telegram channel, he recounted the story of a woman, whose husband – a member of the local self-defense forces – was killed in front of her. According to Gladkov, the woman was held captive by two Ukrainians, and she stated that the other group members were Poles and Americans.
Previously, the Main Directorate of Intelligence (GUR) of the Ukrainian Defense Ministry discussed the involvement of the "Russian Volunteer Corps" and members of the "Freedom of Russia" legion in the Belgorod Region operation.
However, the "Russian Volunteer Corps" issued a statement on Sunday denying that members of the "Polish Volunteer Corps" had crossed the Russian border. The group claimed on social media that their Polish fellow combatants were involved in tasks such as prisoner escort, along with military and medical logistics, but strictly within the borders of Ukraine.
Warsaw has insisted it has nothing to do with the Polish militants fighting for Kiev. "The activities of Polish volunteers supporting Ukraine in the fight against Russia should not be identified with the authorities of the Republic of Poland", said Stanislaw Zaryn, spokesman for the coordinating minister of the country's special services.
---