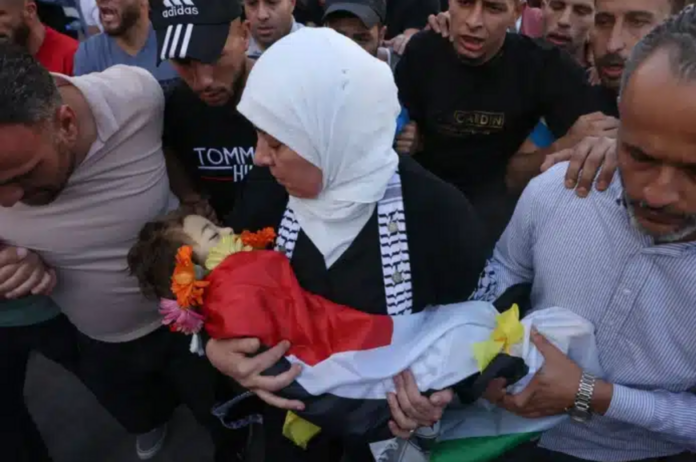 Israeli War Crimes against Palestinian children
 VT's Dr. Elias Akleh exposes modern day genocide of the native Indigenous peoples of Palestine highlighting latest murder of 2 year old boy, shot in the head by IDF
It is admitted by all nations, except Israel, that killing children is the most heinous crime. There is no crime more despicable. Yet, for Israeli terrorist soldiers shooting Palestinian children is an everyday routine.
Israel has waged a terror campaign targeting Palestinian children thinking that Palestinian families would leave the country for the safety of their children.
According to the Arabic Palestinian Prisoner Solidarity Network "Samidoun," the Israeli military typically arrests and prosecutes 500 to 700 Palestinian children between the ages of 12 and 17 every year. These children are subjected to coercive interrogation, physical violence, torture, abuse, threat, and intimidation, and forced to sign confessions written in Hebrew, which they cannot read, before sending them to trials in military courts that lack basic guarantees of due process.
By December 2022, and since the start of the year, the Israeli military had detained 865 Palestinian children142 of them were under the age of 12 and some under 9, many of them were released after trial in military courts on conditions of house arrest or/and after paying high fines.
Mohammad Tamimi, 2 years old, another life taken by 21st-century colonialism, pathetic greed, weak hate, boring racism, and shameful bigotry posing as a promised moral destiny by a made-up fiction sold to brainwashed and ignorant manipulated mob
Israeli military and Israeli armed colonial settlers consider it fun, as an animal hunting game, to target and kill Palestinian children. In 2022 alone they had killed at least 53 children as reported by Defense of Children International-Palestine (DCIP), 36 of them were shot and killed during the year, while 17 were killed in just two days of heavy bombing of Palestinian homes and basic infrastructure in Gaza Strip.
In November 2021, the New York Times published a short documentary, "Mission: Hebron", directed by former Israeli soldier Rona Segal shedding light on some of the daily sufferings of Palestinians in occupied Hebron city, and how Israeli soldiers inflict terror on them for fun and to appease Jewish colonial settlers. One of the soldiers told the director that "It is fun [to shoot children]. Everyone high fives."
On April 5th, 2023, while commemorating Palestinian Children's Day, the Palestinian Authority Ministry of Foreign Affairs and Expatriates revealed that the Israeli occupational army had killed 40 Palestinian children and detained more than 800 others since the beginning of 2023. The ministry warned that Palestinian children remain the most targeted group by the Israeli occupational forces, according to the Arabi Wafa news agency.
The Occupation Claims another human being, extinguished by the jaundiced vision of men who have failed to lead, who have failed the future for all of us.
The ministry added that the criminal and illegal policies and practices encountered due to the Israeli occupation devastate the lives of Palestinian children. These include the demotion of schools and the use of civilians, including children, as human shields. Home demolitions, displacement of Palestinian Jerusalemites, the illegal siege of the Gaza Strip, torture and inhumane practices, as well as the escalating terrorist armed attacks by armed Israeli colonial settler militias, are all instrumental in devastating the lives of Palestinian children.
Since the 1967 Israeli occupation of the West Bank, it was estimated that Israel has detained more than 50,000 children.
Every time the Israeli government faces any inner political crisis it resorts to attacking Gaza Strip to unite its conflicting parties. This is exactly what happened last May when the new Israeli government attempted to change the legal system and met with mass protesting marches. The government then attacked Gaza Strip and assassinated five of the Islamic Jihad leaders with their wives and children.
Yossi Klein, a writer for Israel's Haaretz newspaper described the murder of Palestinian children as translated by Arabi21:
"There's nothing like killing children for bringing together hearts and minds. For the past 18 weeks, Israelis have been fighting each other, unable to find anything to bring us closer together. Then came the killing of the children in the Gaza Strip and proving that we're brothers, after all. … Barriers fell, and ill will was forgotten. Yair Lapid placed a consoling arm on Benjamin Netanyahu's shoulder, while Benny Gantz leaned his head against May Golan, and it was surprising that the entire Knesset didn't stand up and spontaneously break out to sing Hatikva. The killing of children and the bombing of civilians is of greater deterrence and effectiveness than any 'target bank', the infamous 'collapsing' of buildings, or any attempt to 'eradicate the foundations of terrorism once and for all. … killing children is designed to cause pain, to strike the most sensitive place of all. It isn't designed to stop terrorism; it's designed to deter the terrorists and make us happy. When Itamar Ben-Gvir talks about a painful blow,' I imagine that he's referring precisely to that. In fact, he should change his election slogan – not '50 dead terrorists for every missile,' but rather '50 dead children for every missile', killing Palestinian children is an effective step engraved in the memory of Israeli public opinion."
On May 10, 2023, the far-right Israeli minister of heritage, Amihai Eliyahu, openly called for the killing of Palestinian children during an interview with Kan Reshet Bet radio station while discussing the latest Israeli air strikes on Gaza Strip killing dozens of Palestinian civilians including women and children. He stated, "We are people who will not harm a fly, but if the fly bothers him, the fly must be killed and also his children if he hides behind them".
For Israel, all Palestinians, including children, are potential criminals and animal souls created in the human body to serve Jews according to distorted Judaism. At any time, it is permissible for Israeli soldiers to raid Palestinians' homes, wake up their children at night, subject them to a lineup, and take pictures of them.
The Israeli rights group B'Tselem posted a video showing Israeli soldiers raiding a Palestinian residential complex in the middle of the night, waking up 13 children, forcing them out of the building, lining them up, and taking pictures of them.
Since the "imposition" of the present extremist and religiously fanatic right-wing government, everyday armed Israeli soldiers drive their "Tiger" armored vehicles into major Palestinian cities such as Jenin and Nablus and their neighboring refugee camps to spread terror, shoot everything that moves, literally including dogs and cats, killing children and civilians, randomly raiding homes, destroying their contents, and arresting any young men living in the house.
These cities being under the jurisdiction of the Palestinian Authority according to the internationally agreed upon Oslo agreement does not make any difference to the Israeli terrorist army and government, who had never respected any international law, any peace agreement, or any humanitarian sentiment.
The "Tiger" is the newly manufactured armored vehicle built jointly by Israeli and American military industries. It was designed for urban warfare. It is being tested in military operations in Palestinian cities that are being used as a real live testing ground.
Last Monday, June 26th, an Israeli terrorist army brigade raided the city of Jenin as they have been doing every day for the last five months. This day the Palestinian freedom fighters were prepared for confrontation. They had it with these routine Israeli raids and decided to defend their city and their families. They were able to inflict mortal damage to the raiding brigade and completely damage a couple of their "Tiger" armored vehicle.
The Israeli army was forced to send an Apache helicopter to target these damaged armored vehicles to disintegrate them; firstly, for fear of their military technologies falling into the hands of Palestinian freedom fighters, and secondly to prevent any videos or pictures of the damaged vehicles being posted on the internet so that it would not demoralize the Israeli society.
Retreating defeatedly from Jenin with their burning tail between their legs the Israeli military and political leaders called for wiping Jenin off the map to regain deterrence otherwise other Palestinian freedom fighters would feel encouraged to confront the Israeli army. This wiping off of Palestinian villages and towns to ethnically cleanse Palestinian natives has been the primary policy of all successive Israeli governments since the 1948 Nakba: colonization of Palestine. They had totally wiped off 501 Palestinian towns and villages leveling them to the ground during the 1948 war.
This wiping off Palestinian towns and brutal ethnic cleansing of Palestinian natives have never stopped, rather continued unabatedly and nonstop until today despite the alleged Oslo peace agreement. Every day the Israeli military bulldozers destroy a couple of houses allegedly that belong to the families of Palestinian fighters.
For the next five days, Tuesday, June 27th to Sunday, July 2nd. armed extremist religious colonizing settlers, many of them are ex-military fighters, attacked nearby Palestinian villages and towns, killing and wounding dozens of Palestinian civilians burning and destroying dozens of cars, and shops, hurling Molotov bombs into Palestinian homes, desecrating Moslem mosques with their dogs, destroying their contents and burning Islamic Holy Qur'an burning and stealing crops, cutting down thousand years old olive trees and killing farm animals.
These crimes committed by alleged "unruly" settlers, as described by Israeli media, are crimes perpetrated by terrorist colonizers incited and encouraged by Netanyahu's government and religiously extremist ministers such as Ben Gvir and Smotrich, who sent the Israeli army to accompany and protect these terrorist settlers.
These terrorist crimes are not mere reactions to the defeat of the Israeli military brigade in Jenin, rather they are well-planned crimes aiming to terrorize Palestinian civilians to leave their homes and towns so that terrorist Israeli settlers can occupy them.
To regain deterrence, on early Monday, July 3rd the Israeli government waged literally an aerial and land war against the city of Jenin. They sent a couple of Apache helicopters, dozens of drones, bulldozers, 150 armored vehicles, and 1,000 soldiers. The helicopters randomly bombed homes, the bulldozers cut open paths parallel to the streets so that the armored vehicles could drive in the city avoiding streets that might be planted with mines. They also destroyed all infrastructures, cutting water and electricity.
The terrorist soldiers forced three thousand residents out of their homes while bulldozers started systematically demolishing homes to create homeless refugees, a preliminary step towards a new wave of forced transfer.
Despite all Israeli military forces and equipment, they failed to accomplish their planned blitzkrieg. The Palestinian freedom fighters were able to inflict losses on the Israeli army; they were able to destroy a few armored vehicles, a couple of bulldozers, and at least three drones, and inflict losses on the Israeli soldiers. After 24 hours of continued fighting the Israeli army had to send some fresh troops. The war is still going on nonstop for the second day.
Cowards posing as men use American Made Apache Helicopters paid for by the American Taxpayer to fund their pathetic destruction of a native indigenous people living under their pathetic weak immoral and shameful colonial occupation.  It is sadly ironic that the helicopters are named "Apache" after a Native American Tribe was wiped out by English Colonialism.
The Israeli military leaders still carry the illusion of the "Invincible Israeli army". In 1948 the heavily armed Zionist terrorist gangs were able to occupy major parts of Palestine because the Palestinians, under the British Mandate, were not armed. In 1967 the Israeli army was able to occupy the rest of Palestine because Arab leaders failed to arm and train
Palestinians.
In 1973 the then Egyptian president; Anwar Sadat, followed Kissinger's plan to reopen the Suez Canal for marine traffic by storming his troops across to the eastern bank of the Canal pushing the Israeli army backward into the desert. Yet he disappointed the Palestinians when he stopped his troops on the eastern bank of the canal according to Kissinger's plan.
US Secretary of State Henry Kissinger shaking Eqyptian President Anwar Sadat in 1973
Unarmed Palestinians pleaded with the international community and the Arab countries for help in vain. They felt a little relief after the Oslo agreement, but the agreement did not mean anything to the Israeli leaders, who continued their ethnic cleansing of Palestinians and theft of their land. Finally, recognize that the only way to stop the Israeli ethnic cleansing, the destruction of their homes, and the theft of their land, and to regain their freedom and to protect their families is to get armed because Israelis understand only the language of power.
The Israelis were living into the illusion painted to them by the first Zionist Prime Minister; Ben Gurion, who pushed them to commit genocidal ethnic cleansing of Palestinian and wiping off their town claiming that "the old will die and the young will forget". Yet, the old gave their house key to the young, who are determined emphatically to regain their homeland by every means available to them.
The falsely self-proclaimed righteous and legal United Nations could not (or did not want to) protect Palestinian civilians by enforcing their so-called resolutions, or imposing sanctions on Israel the way they are doing at present against Russia for fighting Ukraine. On the contrary, under the strong political pressure of successive American administrations, instead of ascribing the Palestinian victims the moral right of self-defense, they give that right to the criminal Israeli aggressor.
Such strong American political pressure, coming from successive pro-Zionist presidents, especially from the braggingly self-proclaimed Zionist current president; Joe Biden, is not surprising. Successive American presidents, who are only puppets for the Zionist Jewish Federal Reserve, which is really not a federal but a private organization for printing Dollars, and also puppets for the Zionist Jewish Lobby, spending hard-earned American tax money for the benefit and leisure of a foreign terrorist entity, Israel, rather than spending this tax money to solve his own citizens' homeless crisis, the high-interest student loans problems, the lack of the minimum medical coverage for millions of citizens who cannot afford to pay for the simplest medical treatment, such presidents are real criminals. No wonder they support Israel's criminals.
The song "We Exist" is written and produced by JohnnyPunish.com
---