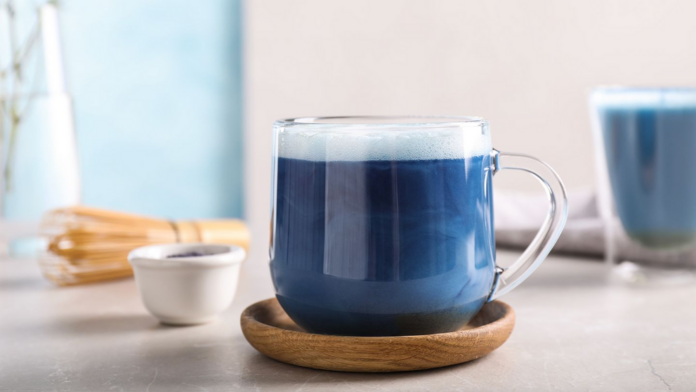 Is blue matcha good for you?
 A blue latte looks special, and what's in this brew may surprise you.
TikTok users claim the bright blue beverage has a number of health benefits, but see what experts say about the drink and how it compares with traditional matcha.
Medically Reviewed by Roxana Ehsani, RD, LDN
Blue matcha is the latest foodie trend taking Instagram and TikTok by storm, with the hashtag #bluematcha racking up more than 40 million views on TikTok alone. One recent video posted by the coffee chain @thenitrobar was a tutorial on how to make an "Earth Day Matcha," featuring both green and blue matcha, and went viral with more than two million views. Blue matcha has also appeared in popular videos about smoothies, teas, and even homemade skin-care products.
If you haven't come across the brightly colored blue powder while scrolling your TikTok feed for recipes and food hacks, it's only a matter of time. So why are people so excited about it? Does blue matcha tea have any real health or nutritional benefits, or does it just look pretty? Here's everything you need to know about blue matcha powder and tea, and whether it's worth a try.
What Is Blue Matcha?
The name for this buzzed-about ingredient is only half-right: It is blue, but has absolutely nothing to do with traditional matcha, which is made with whole green tea leaves, finely ground to make a bright green powder that can be mixed with water and consumed. What people are calling blue matcha comes from the powdered brilliant bluish purple petals of the butterfly pea flower (Clitoria mariana L.), a plant in the pea family, according to the U.S. Forest Service. Like matcha, the flower powder is mixed with hot water, hence the name. You can buy the powder from some tea purveyors, such as Harney & Sons.
Before blue matcha became popular, butterfly pea powder, sometimes called blue pea powder, was best known as a natural colorant for foods. Like other naturally blue and purple foods, such as blueberries, it gets its color from plant-based compounds known as anthocyanins.
Butterfly pea powder has one other notable attribute that makes it a social media darling: In the presence of acids, it changes color, according to a literature review published in the May 2019 Frontiers in Plant Science. When dissolved in liquid, "anthocyanins are very susceptible to the acidity of that liquid," says Eva De Angelis, a licensed dietitian nutritionist. So while the dried petals of the flower are deep blue, when they're added to, say, lemon juice, the color will change from blue to red, violet, or green.
Blue Matcha vs. Traditional Green Matcha
While it may appear that blue matcha is a blue-tinted matcha powder, the two substances come from entirely different plants. Traditional matcha comes from finely ground green tea leaves harvested from the Camellia sinensis plant (the same one that gives us black, white, and green tea). Blue matcha is made from the powdered petals of the butterfly pea plant (Clitoria mariana L.).
While both are bright-colored powders that are dissolved in hot water to make a colorful antioxidant-rich drink, there are some important differences between blue matcha and traditional green matcha. One is that blue matcha is naturally caffeine-free, while green matcha is not. Additionally, traditional matcha derives many of its health benefits from a class of antioxidant compounds called polyphenols, while blue matcha's main antioxidants are plant pigments called anthocyanins.
Potential Benefits of Other Types of Matcha
Matcha is a type of powdered green tea that has become popular because of its purported health benefits. Different types of matcha, such as ceremonial grade and culinary grade, are known to differ in quality and beneficial compounds. Research has found support for the following claims.
High antioxidant content Matcha is known for its high antioxidant content, particularly catechins, which are a type of flavonoid, according to research published in December 2020 in the journal Molecules. "Antioxidants help fight oxidative stress and reduce inflammation in the body, potentially offering benefits for heart health, brain health, skin health, and overall well-being," says the clinical herbalist Adriana Ayales, the founder of Anima Mundi.
Better focus and concentration "Matcha contains a unique amino acid called L-theanine, which has been shown to promote relaxation and reduce stress while improving focus and concentration," says Ayales. A review published in May 2022 in Food Science and Human Wellness backs this up. This is why matcha is so popular among those who want a natural way to improve their energy levels and mental clarity.
Temporary increase in metabolism Matcha also seems to have some level of impact on metabolism and weight management. "Some research suggests that matcha may help boost metabolism and increase fat oxidation, which could potentially aid in weight loss efforts when combined with a healthy diet and exercise," says Ayales.
Does Blue Matcha Provide Health Benefits?
Blue matcha has been studied less extensively than the traditional kind. But the research that has been done is promising.
The abovementioned Frontiers in Plant Science article discussed various animal studies presenting evidence that butterfly pea flower extract has anti-inflammatory, analgesic, antidiabetic, anti-cancer, antioxidant, and wound-healing properties. One study in rodents who were induced to have high blood pressure found that regular oral ingestion of butterfly pea extract alleviated that condition, according to results of a study that was published in March 2021 in Antioxidants.
A laboratory study of human cells found that butterfly pea flower extract inhibited the growth of fat cells, according to research published in May 2019 in Molecules. And one small study of 15 men found that drinking a beverage that contained butterfly pea flower extract and sucrose led to improved glucose, insulin, and antioxidant status.
While more rigorous research is required to determine whether butterfly pea powder can be used to benefit human health, it is a clear source of antioxidants, and there is plenty of research to show the benefits an antioxidant-rich diet can provide. "The anthocyanins found in blue matcha are partly the reason why this tea has become so popular with so many potential medicinal properties," says De Angelis.
According to a review published in July 2021 in Pharmaceuticals (Basel), daily intake of anthocyanin-rich foods has been associated with the following health benefits:
These benefits are likely due to the antioxidant properties of the anthocyanins and other substances found in butterfly pea flower, which is believed to possibly help with neutralizing free radicals and protecting cells from damage, reports the University of Florida IFAS Extension.
What's more, one study published in December 2021 in Frontiers in Plant Science found that the specific kind of anthocyanins present in butterfly pea powder tend to stand up better under heat, which means using them in hot beverages like blue matcha tea won't destroy their nutritional value the way it does some other foods.
Butterfly pea flower powder also has a strong history in traditional medicine, where it has been used for diabetics, blood pressure, retinal damage, edema, and indigestion. In traditional Ayurvedic medicine, the butterfly pea plant also has been used for reducing stress and anxiety. It has been suggested that butterfly pea flower extract may have a positive effect on cognitive function, including memory and learning abilities, due to its antioxidant and anti-inflammatory properties, Ayales says.
Health Risks of Blue Matcha
While butterfly pea flower and blue matcha are generally considered safe when consumed in moderation, there are certain risks that some people may encounter. It is possible to be allergic to butterfly pea flower or anything it is used in, including blue matcha. "Allergic reactions may manifest as skin rash, itching, or gastrointestinal discomfort. If you have a known allergy to these ingredients, it's best to avoid consumption," says Ayales.
Overconsuming blue matcha may potentially lead to nausea, digestive discomfort, and diarrhea, says De Angelis.
Takeaway: Is Blue Matcha a Worthwhile Wellness Trend?
While blue matcha can be pretty to look at and fun to enjoy from time to time, there is currently no solid evidence that it has a greater impact on human health than any other anthocyanin-rich food.
"I would like to point out that, like many TikTok trends, this is not a magical solution for perfect health," says De Angelis. "This tea is rich in antioxidants, which could be proven beneficial for our health, but that's not to say that we should rely on just one single food or drink for health." It's about the balance of our diet, and not an isolated ingredient.
---