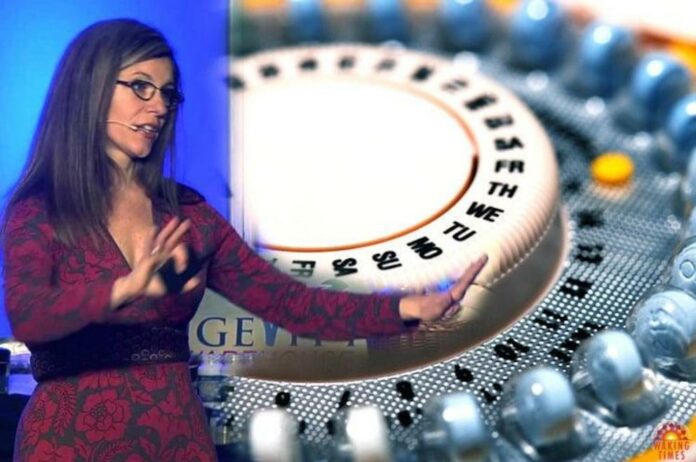 Millions of women are prescribed birth control pills every day to prevent pregnancy or to control a hormonal imbalance, but Dr. Sara Gottfried, a practicing gynecologist, is convinced women have been sold a pack of lies when it comes to these top-selling pharmaceutical drugs. Here's why.
First, you should know that this article is about supporting women completely in having full choice of when to conceive or not to conceive. However, it is also about informing them (and the men who love them) what happens to their bodies and minds when they take birth control pills year after year.
As Elizabeth Siegel, another medical expert reveals in her study, marketing decisions rather than scientific innovations, have guided the development and positioning of contraceptive products in recent years. What's even more disturbing is that though there are hundreds of birth control brand names to choose from, there are only a handful of actual formulations, all based on science that is more than (and dare I say, based on the tired, patriarchal notion of female sexuality).
Considering that there are forces which would like to sterilize the entire population, this topic deserves a little extra inspection. Compulsory sterilization is no joke. It's been happening for several decades now. The recent realization of Kenyan doctors that a UN tetanus vaccine was a "mass sterilization exercise," and other telling attempts reiterate this truth.
Prince Phillip, Duke of Edinburgh once said, "If I were reincarnated, I would wish to be returned to Earth as a killer virus to lower human population levels."
Paul Ehrlich, a former science adviser to president George W. Bush and the author of The Population Bomb has stated:
"To our minds, the fundamental cure, reducing the scale of the human enterprise (including the size of the population) to keep its aggregate consumption within the carrying capacity of the Earth is obvious but much neglected or denied."
If they can't lower our numbers with chemtrails, forced vaccinations, GMO food, carcinogens in our air, water, and soil, endocrine disrupting pesticides, nuclear weapons, endless wars, manufactured AIDS and other viruses, etc., then the New World Order attempts to just sterilize us like cattle.
HBO host, Bill Maher has stated, "I'm pro-choice, I'm for assisted suicide, I'm for regular suicide, I'm for whatever gets the freeway moving – that's what I'm for. It's too crowded, the planet is too crowded and we need to promote death."
Moreover, more than 3 million unwanted pregnancies happen every year, just in the U.S. even with contraceptive use – so once we throw in the health harming hazards that go with these drugs, it seems it is time that women had a 360-degree view of their birth control choices, before plowing ahead.
So, as offered by a practicing gynecologist who sees hundreds of women every year, here are some reasons why you (or your wife or girlfriend) may want to stop taking the Pill (Birth Control Pills – BCPs).
The Pill dramatically increase a woman's testosterone levels which can cause a low sex drive, vaginal dryness, and painful intercourse. Up to 40% of women may be experiencing this problem but not talking about it.
The reason the Pill is famous for helping to clear up acne is that it overwhelms natural estrogen with testosterone. While this may be a temporary benefit to taking the Pill, long-term, your natural "female" hormones don't return to normal. This means your hormones stay whacked for decades. Dr. Kelly Brogan tells the same tale of disturbed hormonal balance in women who have been taking the pill, with no clear sign of the body returning to normal hormone levels. – Recommended to read.
The gut is negatively affected by BCPs. Another thing that gets "whacked" when you take the pill is your gut health. Ulcerative colitis and Crohn's disease (both linked to chronic gut inflammation) is more common among women who use oral contraceptives.
The Pill decreases the bio-availability of key vitamins and minerals your body needs. Doctors still don't know how, but BCPs lower the body's absorption of vitamins B1, B2, B5, B6, B9 (folate), B12, vitamins C and E, copper, magnesium, selenium, and zinc.
The Pill causes blood clots. If certain types of oral birth control are used, the tendency to develop deep vein thrombosis and pulmonary embolus increases three-fold.
The Pill makes PMS worse. Those containing , a synthetic version of progestin, are the worst.
The Pill lowers your thyroid hormones. isn't just from Fukushima radiation.
The Pill can make you gain weight, retain fluid, and feel bloated. The mainstream will tell you that the Pill isn't the reason for your weight gain, but just in case you think it is, don't worry – it will in a month or two.
The Pill increases the risk of breast cancer and cervical cancers. No brainer there.
The Pill, as opposed to other contraceptive methods can cause permanent delayed conception. Maybe you don't want kids now, but what about the future?
Fertility is a very personal choice, but women and men alike should at least be aware of what chemical birth control pills do to the body and possible reasons why they are so heavily prescribed.
Dr. Gottfried advises,
"For some women, the BCP is the easiest or most convenient choice, and above all else, I support a woman's right to choose. I prefer non-hormonal forms of contraception like the copper intrauterine device (IUD), cervical caps, diaphragms, and condoms, but I understand they are not always possible, affordable, or appropriately effective.
If you choose to stay on the Pill despite my precautions, take note of any symptoms of hormone imbalance."